DOLIVE SHRIMP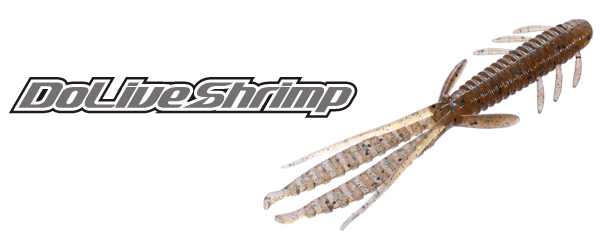 | | |
| --- | --- |
| Length | 3" 4" 4.8" 6" |
| Color | 42 |
| Released | October - 2012 |
The action and wave motion is almost alive shrimp
Shrimp live in all over Japan and is the best favorite bait of bass because it has good taste and easy to catch.
DOLIVE SHRIMP express the movement of shrimp, trembling their arms and legs busily. Furthermore DOLIVE SHRIMP express faint vibration of shrimp's arms and legs.
Ultra high speed vibration of upward hands occurs when DOLIVE SHRIMP falls or swims. And that vibration goes to leg, sensory tentacles and its flat tails. So, whole body trembles minutely. It is almost like a real shrimp drifting in the water.
Also, the upward hands have the effect to slow its fall speed. Its slow falling action with minute vibration of body increase bites while it falls dramatically.
Thanks for the low specific gravity material, after reaching the bottom, it keeps natural posture even if it is used very slowly with stay action.
No matter how you seduce bass, every part of DOLIVE SHRIMP works separately and induces bite with its lively action.
Why don't you feel the extreme excitement when even experienced bass bite so easily because DOLIVE SHRIMP acts more like genuine shrimp.
DETAIL

The sensory tentacles and flat tail disposed separately
The sensory tentacles and flat tail are disposed separately and there is space between them. Thanks for this design, DOLIVE SHRIMP generates ultimate action to make fish bite in spite of slim appearance because both part move simultaneously and differently.
Upward hands
As soon as this worm hit water, upward hands start to vibrate and that vibration goes to all the parts. Also, by twitching rod, it responds well. It keeps attracting fish from the time it falls on the water till pick up.

Semi Ring Body & Center Line
DOLIVE SHRIMP adopted semi ring body which catches water well and makes subtle vibration. Center line of body makes hook-set correctly.
[Material]
To maximize the action of the DRIVE SHRIMP, it has been adopted best hardness of the material. And reduce the amount of salt in order to keep horizontal posture in slow invitation like stay, to secure the necessary buoyancy. Also, the material is scented with the real powder of shrimp and squid which stimulate bass to bite.
■DOLIVE SHRIMP4.8
3 inch is best for spinning tackle and 4 inch is best for bait fineness tackle, and 4.8 inch is easily used with normal bait tackle because it has moderate weight. This worm has a power to appeal in a vast area or in a heavy cover.
Also, making consideration of cover fishing and heavy use like a full cast in vast area, we adopted hard material which has strong durability. Because the worm hold the hook well, it is possible to continue fishing in the stress-free.
The quantity of salt mixed with material is a little to make a most of hook keeping ability and to express drifting shrimp naturally. Without losing the subtle action of DOLIVE SHRIMP4.8inch made strong game possible because of its size. Strong reaction of bass will prove its effect.
■DOLIVE SHRIMP6
DOLIVE SHRIMP 6 inches lineup as "a size required to shoot big fish".
DOLIVE SHRIMP 6 bewitches even experienced big bass by falling action and unique action of each part by rod handling. The performance is quite different from former big worms.
The benefit of 6inch size is not only for a big fish.
When you approach weedy area, the head of DOLIVE SHRIMP will be covered with weed, but the tail of long body appeals to bass.
Furthermore, the upward hands of DOLIVE SHRIMP prevent from going into the weeds too deep, and increase the possibility that bass find worm.
Same as 4.8inch, hard material is used mixed with a little salt to be durable. You can fish comfortably because the worm holds hook well even when you fish hard like punching on weed mat or skipping bush cover and long cast in a vast area.
■Recommended rigs for 3inch&4inch
Drop shot rig, Wacky rig with a nail sinker, a trailer for a small rubber jig, Light Texas rig, Jig head rig
■Recommended rigs for 3inch&4inch
Texas rig, Heavy drop shot rig, Carolina rig, Jika rig, a trailer for a rubber jig, etc.Recommended hook: offset type(3/0~4/0), straight type(3/0~4/0)
■Recommended rigs for 6inch
■Texas rig, Drop shot rig, Carolina rig, Jika rig, a trailer for rubber jig, etc.
※corresponding to a heavy weight sinker( hook recommended: offset type 5/0~6/0, straight type 5/0~6/0)
No.
Color Name
Size
3"
4"
4.8"
6"
W001
WATER MELON PEPPER
○
○
○
○
W002
CINNAMON BLUE FRAKE
○
○
W003
SCUPPERNONG
○
○
○
○
W004
GREEN PUMPKIN PEPPER
○
○
○
○
W005
JUNE BUG
○
○
W006
BLACK BLUE FRAKE
○
○
○
○
W007
LIME CHART
○
○
○
○
W009
MOEBI
○
○
○
○
W010
TENAGA
○
○
○
○
W012
SMOKE PEPPER & COPPER FRAKE
○
○
W025
NATURAL PINK
○
○
W027
DARK CINNAMON BLUE & PEPPER
○
○
○
○
W033
LITE WATER MELON BLUE FRAKE
○
○
○
○
W034
SCUPPERNONG BLUE FRAKE
○
○
○
○
W035
EBI MISO
○
○
○
○
W039
SMOKE BLUE FRAKE
○
○
W043
IMPACT GOLD
○
○
W047
SUN BURN WATER MELON
〇
〇
W048
KT DARK SMOKE / BLUE FRAKE
〇
〇
W049
KT DARK SMOKE / COPPER FRAKE
〇
〇
W052
KT DARK SMOKE / COPPER & GREEN FRAKE
〇
〇
W054
YOSINOBORI
〇
〇
W056
SHIRAUO
〇
〇
TW107
GREEN PUMPKIN / CHART
○
○
○
○
TW108
GREEN PUMPKIN RED / NATURAL ORANGE
○
○
○
○
TW109
AME ZARI
○
○
○
○
TW112
BLUE BACK CINNAMON
○
○
○
○
TW115
SPRAYED GRASS
○
○
TW117
GHOST SHRIMP
○
○
○
○
TW121
MADDY SHRIMP
○
○
TW127
SIGHT SPECIAL
○
○
TW128
GREEN WEENIE
○
○
TW129
NEON SHAD
○
○
TW136
KAWA EBI
○
○
○
○
TW139
NEON WAKASAGI
○
○
TW146
EBI MISO BLACK
○
○
TW147
MORNING DONE
〇
〇
TW151
ERECTRIC SHRIMP
○
○
TW153
EBI GORI
○
○
○
○
TW155
GREEN PUMPKIN / PINK & RED FRAKE
〇
〇
TW188
NUMACHICHIBU
〇
〇
TW195
GORI MISO BLACK
〇
〇
Item list
O.S.P
O.S.P SALTWATER
O.S.PWORKS SECONDARY
WORKS LOCO