RUDRA-F
JERKBAIT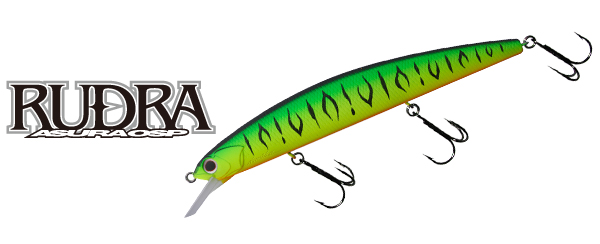 | | |
| --- | --- |
| Length | 130mm(5-1/8in.) |
| Weight | 17g(3/5oz.) |
| Type | Floating |
| Hook Size | #4 |
| Released | August - 2005 |
High floatability will create a whole new world of big minnowing.
13cm length big minnow "RUDRA" is equipped with special power totally different from former big minnow. Above all, super high pitch action by simple retrieve plus strong flashing of flat body is almost like original bait fish. Therefore, it makes wise and experienced bass bite by remarkable high probability. And this floating model was arranged by high float so that its merit could be employed efficiently to the utmost. Not to mention, the problem like shortage of distance of big minnow is completely solved by the body design in consideration of center-of-gravity movement, low center-of-gravity fixed weight, and air resistance. And as a result of choosing the weight pattern which enables coexistence of driving distance and action at the high dimension, "RUDRA" succeeded in 3-g weight savings compared with suspend model. Efficiently, it is also the best for fishing in cover area, because it performs high snagless ability if you stop retrieving when "RUDRA" slightly touch the cover because it floats and dodges. So you can feel a lot of fish bites because it seldom hangs. And in the flat area where the space between weed and the water surface is narrow, "RUDRA" can keep shallow range by stop-and-go retrieving and twitch and pose. This method enables you check wide area quickly, and also effective for big bass. Furthermore, "RUDRA"'s action that floats up to surface trembling so feebly stimulates bass intensely, and bite will be doubled. And strong buoyancy creates a ripple on the water surface and so, it is effective as top water lure. In this way, this floatability is advantageous in all actions and shows the sharp merit showing even belly by dirt performance. Thus, high float arrangement can perform the tightest approach in many kinds of covers and techniques regardless of situation.
DETAIL

Double center-of-gravity movement
"RUDRA" adopts moving center-of -gravity weight by 2 small balls, and so castability and action are compatible.The miniaturization of weight ball carries a ball to a slim caudal portion, and stabilizes a flight attitude. In addition, it contributes to low center-of-gravity when it swims and performs high pitch rolling.

Full flat body
"RUDRA" generates strong flashing and wave which is impossible by round or ellipse body. And it has strong power to gather fish from wide area, and induces reaction bite.

Honeycomb super HP body (PAT.)
"RUDRA" is quite different from normal light floating minnow. A lightweight honeycomb body directs action beyond the limit of ABS resin. The true high pitch action is produced only by honeycomb construction which surely increases catch.

The Best Lip For Jarkbait
Not all thin lip is good in every lure. The lip of "RUDRA" has best material and shape to create both rolling flashing dart and high pitch retrieve.
O.S.P MOVIE
Item list
O.S.P
O.S.P SALTWATER
O.S.PWORKS SECONDARY
WORKS LOCO