HPF CRANK SPEC2
FLAT SIDE CRANK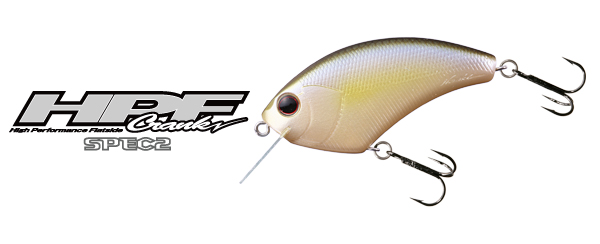 | | |
| --- | --- |
| Length | 63.0mm(2-1/2in.) |
| Weight | 8.9g(5/16oz.) |
| Type | Floating/Silent |
| Dives | 0-7ft. |
| Color | 10 |
| Released | September - 2004 |
After all, crankbait should be selected by inner structure
Original HPF crankbait realized high response action exceeding normal balsa flat side crankbait by adopting a lot of innovative technology inside the body. Its total ability is supreme because it has overcome the biggest weak point of flat side crankbait , castability. That's why it is regarded as No.1. The only irregular action is lying down sometimes caused by rolling back of main weight when it hit cover while swimming. On the contrary, by making the most of this action you can produce action as if bait fish run away. Still more, it can produce reaction bite because it floats up from the bottom to the surface with its side upward, which hard lure with lip can never do. But this characteristic action might be disadvantage. It depends upon the condition of bass.
HPF crankbait spec 2 was made by new mold core and adopted fixed weight. Angler can enjoy steady retrieve because it does not lie down so much when it hits cover while swimming and does not go away from structure. Nervous bass that hates rattle sound reacts well because it is silent type. In addition, by excluding the installed U character fixed weight, it realized 10% lighter body. So both buoyancy and snagless ability were improved. Although the casting distance is not as good as original HPF crankbait, loss was minimized, because it obtained good flight posture by placing weight backward. HPF crankbait spec 2 gathers bass from wide range by just straight retrieve and increases boat-side-bite because it acts very naturally.
Specs 2 is in a word, a strong flat side crankbait under tough condition. Casting distance is not as good as original one, but makes nervous bass bite by tight and natural swimming around cover.
DETAIL

Fixed one weight
Specs 2 adopted fixed weight though the original was a weight transfer type. Moreover, U character type fixed weight of original model is excluded, so the buoyancy is advanced. The attitude of flight has been improved by having moved the weight position 8mm backward.

Silent
The performance was dramatically differentiated by making it silent which is totally contrary to the One Knocker with original one weight large tungsten.

High position low laid eye
The eye is set at a high position to hide the hook behind the body when swimming and the snagless performance has been improved.
Item list
O.S.P
O.S.P SALTWATER
O.S.PWORKS SECONDARY
WORKS LOCO