i-Waver 60 SSS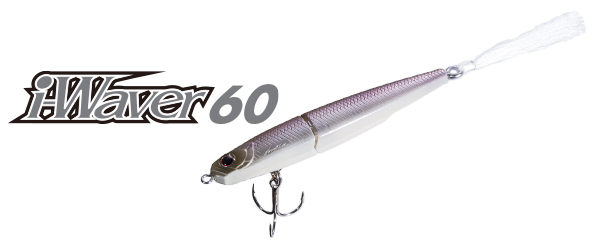 | | |
| --- | --- |
| Length | 60.0mm |
| Weight | 2.6g |
| Type | Super Slow Sinking |
| Hook Size | #10 |
| Color | 16 |
| Release | June - 2020 |
The range of I-Waver is extended by downsizing
The I-Waver was developed in 2012 seeking for the bait that enables everyone to catch fish with I-shape action. The difference of The I-Waver is the joint structure to prevent from moving and the special fiber hair that shimmers like small bait and the stable sideways floating posture created by the setting the specific gravity of the body like no other. Thus The I-Waver was born equipping unprecedented various new elements. It can be seen by not only anglers but bass.
Recently angler fishes with I-shape action not only spring but all the year round because of tough condition.
Smelt is one of the main bait of bass and the size is different depends on the season and the field. So adjusting the size of bait is very important. Using 5~6cm size is effective, and needless to say small size is very effective when bass select bait carefully. That is the reason why The I-Waver was developed.
The I-Waver 60SSS equips 1 hook (#10)at the front body whereas The I-Waver 74 equips 2 hooks (#10). At early days of development, experiments were repeated placing 2 hooks and 1 hook at the various places. We tested a lot of factors like castablity and snaglees ability and retrieve ability. And the conclusion we reached was 1 hook at the front body. By installing # 10 size hook, hooking up aggressive bass became possible. One more advantage of 1 hook is the improvement of biting and catching rate because 1 hook gives bass less suspicion.
The I-Waver 60SSS can trace the same depth (20~40cm below the surface) as 74SSS. If you detect the chase of bass, twitch and make bass reaction bite is effective. The I-Waver is the new bait that can cope with high pressure with 60mm size and 1 hook.
Recommended tackle
Rod: About 6ft~6ft10in UL~L class spinning rod
Line: Main line =Braided line 8lb ~10lb Leader = fluorocarbon 4~5lb (Or Main line=Fluorocarbon 2.5~4lb)
Hook: Gamakatsu RBM short shank #10
DETAIL

The reason why bass stop chasing when you give the bait I-shape action is up and down movement of body like seesaw made by wave or wind and the swing of line created by retrieve. In order to prevent such unnatural movement, joint structure is adopted.

The hook size is #10 to be able to hook up big bass and increases distance because 1 hook causes less air resistance.
Item list
O.S.P
O.S.P SALTWATER
O.S.PWORKS SECONDARY
WORKS LOCO