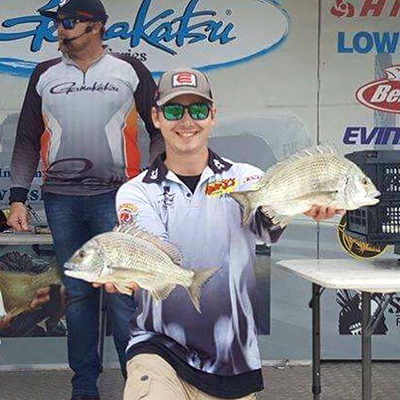 The Gamakatsu Team Series grand final in Ballina was run and won. Lucky by Tony Moore and myself!!!!
We hit the water on the first day with out a pre-fish and noticed that the river was still running fresh, due to recent rain.
With this in mind we made the decision to fish the bottom of the river, to hopefully find some salty water. Our bag came very quickly fishing a combination of Cranka crabs and OSP DO-Live shrimp along rock walls.
Weighing a bag of 3.07kg we were in the lead!!!! Day 2 we started fishing with the same plan in mind and quickly had to change things up, the fish that were on the wall had moved due to the pressure of 70 anglers on the first day.
A change of tactics and a move to deeper water resulted in a flurry of big fish. Making long cast up current with a dolive shrimp rigged on an 1/8th proved deadly. Fishing in 8m of water feeling the bite was imperative. When fishing plastics I chose to use a edge 702-2 BSR it has a soft enough tip to keep small hooks!
in soft lips, and for crabbing a 701ISR, because of the sensitivity and bottom end power. Tony and I weighed 2.69kg that day which was enough to take the win.