O.S.P BUZZ ZERO TWO "BEAT"
BUZZBAIT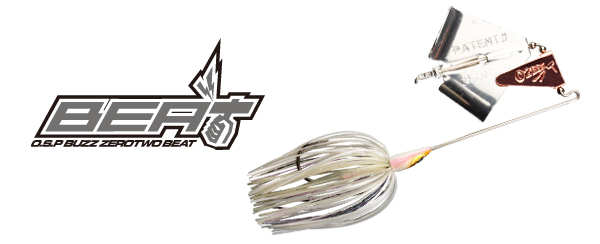 | | |
| --- | --- |
| Weight | 3/8oz. |
| Released | October - 2007 |
Impact sound is MAX decibel
We should not forget about sound when we talk about buzzbait.
This sound has two elements. One is "quality" and the other is "volume".
These two different elements has been making history of buzzbait along with prop, cracker, wire, head, revet.
O.S.P released O.S.P BUZZ ZEROONE in 2003 focusing on reproducing "sound" of tuned buzzbait that was a secret of top pro.
This time O.S.P sought "volume" which threatens bass and has the power to appeal and generate reaction bite. Because density of bass is now stable in Japanese field.
"Volume" reminds us of head hitter type but they have weak point, namely castability and accuracy.
Then cracker buzzbait was selected among various types to realize better "volume" and performance.
We reached the conclusion that material and shape of cracker is the key to surpass existing cracker buzzbait.
Brass material was adopted for cracker for the first time in the world. It succeeded in hitting prop as wide as possible with its special design.
The shape of head inherited surfing head as O.S.P BUZZ ZEROONE to produce quick floating and high snaglessness.
So it made possible to attack bass floating under the cover efficiently and boldly.
And big prop was equipped to make big splash by the rotation of prop.
Cracker type buzzbait swims directly as angler intends because it goes very straight. Therefore checking far deep of complicated cover became possible.
Now that O.S.P BUZZ ZEROTWO BEAT has acquired "volume", its high performance is making a new history.
DETAIL

BEAT cracker
As a result of pursuit of "volume" of buzzbait, we reached the origin named "material". Most of material of existing cracker was aluminum alloy. Mass of aluminum alloy is light, so the volume it generates when it hits prop is not satisfactory.
So we checked every material to make the most of the impact sound of cracker, we reached the conclusion namely brass material. This material has hardness compared to aluminum alloy, produces strong sound when it hits prop. Generally, brass is used for instrumentals or bell for warning bears, this material is good to create "volume".

Surfing head Ⅱ
Head is wide and flat shape, and was designed to imitate shad. Bottom shape which is just like hull (ship bottom) contributes to floating ability and it easily dodges floating structure. Thus this lure has the basic ability of buzzbait at its highest level.

Rear center of gravity weight
By placing the weight between head and worm keeper, center of gravity was set in the rear. And so its stable flight attitude and castability surpass head hitter type.

Prop
In comparison of weight BEAT cracker intentionally adopted quite heavy part 1.4g, whereas aluminum cracker 0.6g. To create strong hit against heavy BEAT cracker, large size prop was adopted. It performs high floatability and big splash. This prop is indispensable for synergy effect to maximize the merit of BEAT cracker.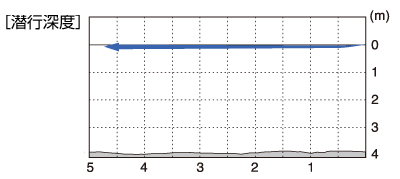 Color No.
Name
Weight
Original
Eco
3/8oz
3/8oz
S06
Vivid Pearl White
○
○
ST21
Spark White Chart
○
○
S22
Killer Gold
○
○
S35
Impact Lime Chart
○
○
S38
Sun Fish Tiger
○
S39
Chart Back Ayu
○
○
S45
Blue Gill
○
○
S52
Define Black
○
○
S53
One Punch Pink
○
S54
Crystal Shad
○
S56
Blue Back Chart
○
○
S58
Bloody Shad
○
○
S59
K.O.C.S
○
○
S60
Wakasagi
○
○
S61
Ghost Chart Blue Back
○
○
S63
LB Shad
○
○
S64
Wild Gill
○
○
S66
Fire Orange
○
○
S67
Wakasagi Flash
○
○
S69
Vagetable
○
○
S70
Black FL Silver
○
○
S71
Black FL Gold
○
S72
Sexy Pink
○
Item list
O.S.P
O.S.P SALTWATER
O.S.PWORKS SECONDARY
WORKS LOCO