DoLiveBeaver Magnum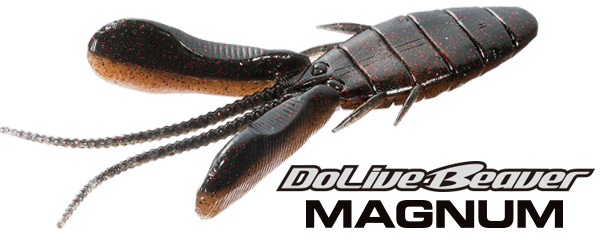 | | |
| --- | --- |
| Length | 7inch class |
| Color | 7 |
| Count | 6 |
| Released | Oct - 2020 |
Super impact mega vassallo
If you want to attract bass with your bait, only the size matters. But can you get a bite with that bait? The answer may be no. Bait is required not only the ability to attract bass but the ability to make them bite. The Do-Live Beaver MAGNUM moves its body and vassallo paddle simultaneously as if it were joint bait. It is big bait which has both attractive power and bite entice ability. And it stimulates the instinct of bass, namely predatory and intimidating. While loosely and widely fluttering the vassallo paddle in the direction of the back, the body also bends to grasp and move the water, showing a presence with a vibrant wave. Flat body shape solved the hooking difficulty which is the problem of big worm and appeals to the bass because it disturbs the water widely when it falls sideway. It works well under various kind of water condition from clear to muddy and it works even better under tough condition like terrible muddy water. Even a sophisticated high IQ bass hiding in the A class spot of major lake comes to swallow this bait. That is a quite impact. The Do-Live Beaver MAGNUM will upset the concept of big worm strategy because it has a potential to make your new record and make full limit with kicker fish in the tournament.
What is Do-Live Beaver?
The Do-Live Beaver is hog type bait for cover fishing with lively vassallo action that is performed by 2 paddles which move in the dorsoventral direction as if it were a swimming butterfly. It has flat body that seldom hangs but hooking is good. After it was released in the fall of 2017, it became the winning bait many times and is still making good results all over Japan. And so it is called the standard of next generation.
DETAIL

"Vassallo" puddle
It looks like normal pair of puddle but this is the engine of this bait which generates kick back wave motion of crawfish and shrimp automatically. It is designed vertically asymmetric to differentiate swing speed and creates lively action.

Gentle dent in a flat body
Flat body keeps stable posture under "Vassallo" action and contributes to improve hooking rate. This body shape helps slow and horizontal fall even when the bait does not equip weight like Carolina rig. So, quick and slow action is possible. Gentle dent designed in the center flat body helps conceal hook point when it get over cover like branch.

Beaded beard
Thin and long beaded beard imitating crustacean antennae does not disturb the action of "Vassallo" puddle but creates microwave by catching water. This is the symbol of manufacturing of O.S.P works because it paid particular attention even to details.
Item list
O.S.P
O.S.P SALTWATER
O.S.PWORKS SECONDARY
WORKS LOCO