YAMATO Jr.
PENCIL POPPER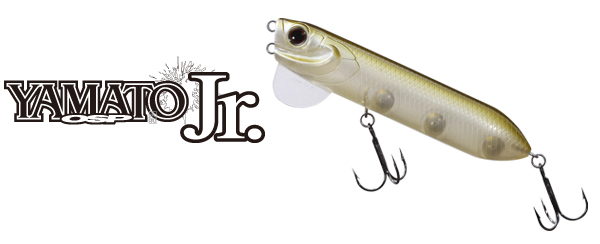 | | |
| --- | --- |
| Length | 94mm(3-7/10in.) |
| Weight | 18g(5/8oz.) |
| Type | TOP |
| Hook Size | #4 |
| Color | 12 |
| Released | June - 2009 |
Complete uniting of practical principle and personality
In spite of the individuality of products are getting weaker, Yamato O.S.P was released in 2006 advocating original concept in the field of similar lure, pencil bait and pencil popper. Yamato' downsizing version Yamato Jr. was born to succeed Yamato's concept completely and to adjust tougher condition. In order to strengthen various tempting power Yamato's structure was redesigned for Jr. and realized ability that topwater plug has never had. Lower eye is used normally, by making it dogwalk right and left it generates strong temptation right after swimming. In an instant it performs maximum ability and lure the target. And high appeal power attracts bass from wide range even in weed area. In tough condition, it attracts bass naturally with sweet popping sound and smooth turn brought by soft rod operation. On the contrary, hard rod operation produces high appeal temptation by popping sound that creates reaction and wide splash. Although Yamato Jr. is a stick bait that does not move by itself, you can handle lure action whatever you want without difficult rod operation.
Another feature is it creates wake, splash and unique sound while dog walking. Especially, popping sound created by front and side cup is quite similar to bite sound of other bass, that stimulates fighting instinct of target bass. And it swirls water, lift up surface and creates circle wake. At the same time, dome like splash and wide scattered splash demonstrates appeal power beyond comparison.Yamato Jr. is a NEW bait that advocates new strategy in the developing bass fishing taking advantage of the blind spot.
DETAIL

Side cup
In order to splash widely, side cup is added on left and right with front cup. No other lure has side cup. Side cup creates not only splash but mass of air in water and it attracts big bass widely(when high-appeal eye is used). And it helps dive the lure by catching current.

Center board
Center board attached beneath front realizes quick and wide 180 degree turn as if It was like putting up of the rudder to the prow.(when high appeal eye is used). Moreover, it helps increase splash, widen wake, create S-character action by just retrieve. So it is very important part which creates action that is impossible for normal pencil bait and popper.

Dual eye: high appeal eye
Main eye that generates pencil and popper function as topwater lure. High pitch dog walk that swings its head up and down, right and left can tempt intensively where you want to get bite. Also, wide angle splash to which detailed spray scatters and surface swelling ripple are very effective, so it appeals deep and widely.

Dual eye: diving eye
Diving eye makes lure dive easily, so as another YAMATO OSP, the stage of the action shifts right under the surface of the water. Making it dive by a little harder rod operation and dog walk under water by continuous twitch. Still more, S-character action with wide rolling right under surface of water by just retrieve. It expands the chance under the situation that bass does not come up to the surface because it dives a few inches.
Item list
O.S.P
O.S.P SALTWATER
O.S.PWORKS SECONDARY
WORKS LOCO