Weed Rider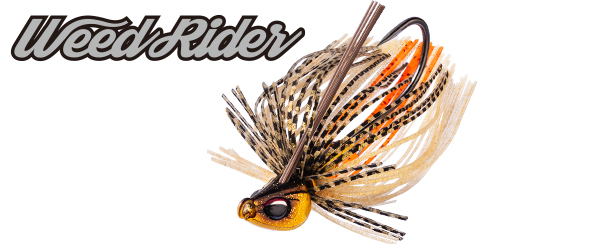 | | |
| --- | --- |
| Weight | 3/8oz、1/2oz、5/8oz |
| Color | 8 |
| Rereace | Dec-2018 |
The swim jig that brings real value to anglers "The Weed Rider" debut!
The most low appeal lure among fast moving lures is swim jig.
Recently many anglers use swim jig in a lot of places, so each Field requires different type depend on the type of field and depth or the condition of bass. That is why swim jigs are being categorized.
And even more evolution is required because along with swim jig has been used frequently the merit and demerit has been exposed.
"The Weed Rider" was produced by O.S.P pro staff Tetsuhiro Morita, a professional fishing guide of Lake Biwa. Morita has not only deep knowledge and experience of Lake Biwa and fish but also has the knowledge and thought like the performance and the physical mechanism of lure as the professional lure developer.
After he has used a lot of jigs so far, he reached the conclusion that " There is no fishable and easy –to –use jig for everyone in the grass area of Lake Biwa which changes every year. So he started to develop".

Many jigs got caught in the grass right after it touches bottom but "The Weed Rider" sinks keeping the attitude of curve fall and it touches the bottom from belly.
When you swim it, wobble and roll action of head is suppressed as much as possible, and it seldom got stuck in the uneven grass area.
In order to get over the grass top by mere retrieving without rod lift, "The Weed Rider" reached the flat and wide head of belly and eye position.
This shape of head increases bite chance because it is easy to keep depth and easy to lift up at the boat side.

In order to raise hooking rate under the condition when fish is slow and does not bite firmly, the brush guard is set to the necessary minimum 7 pieces.The shape of head does not need the brush guard so much that you can fish with no guard by pulling up them if you get used to it.And it is equipped W tying skirt which increases retrieve resistance and action effect. Also it is equipped peg hole to insert something like toothpick to prevent from veering of worm completely even when you repeat full cast with big shadtail worm.
Not to mention, worm keeper holds worm firmly. And it is seldom got stuck not only in the grass area but hard bottom. So you can use in a various fields.

"The Weed Rider" completely eliminates any kind of fishing stress like grass stuck which is the great enemy of swim jig. It increases bite chance by improved total performance and it reduces waste cast. "The Weed Rider" is a swim jig that brings real value to all the anglers from beginners to professional because it has equipped truly necessary performance fully.
Item list
O.S.P
O.S.P SALTWATER
O.S.PWORKS SECONDARY
WORKS LOCO