HIGH PITCHER
SPINNERBAIT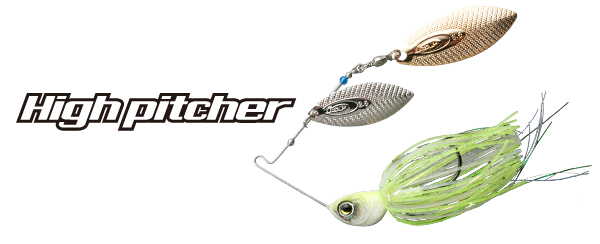 | | |
| --- | --- |
| Weight | 1/4oz(7.0g) white bead、5/16oz(9.0g) black bead、3/8oz(11.0g) blue bead、1/2oz(14.0g) red bead、5/8oz(18.0g) yellow bead、1oz(28.0g) pink bead |
| Type | TW / DW / DC(only 1oz.) |
| Color | 20 (1oz. 10 colors) |
| Released | October - 2004 |
Designed for real fight
High Pitcher was developed as a type of small spinner bait to catch big bass under high pressure condition.
Being tested not only in japan but also in U.S.A. this spinner bait proved to be capable of attracting and catching many fish.
When it comes to spinner bait, blades are the most important part to catch fish. So, we have stuck to the highest quality blades, which make different actions from other spinner bait blades.
The front part of blade is flat and the rear part is deep like a cup. That is opposite from other spinner bait. So, front part of blade rotates around circle and swivel also rotates.
That is why upper arm vibrates well and that vibration transmits to the head.
Therefore, we succeed in producing ultra high speed spin and strong vibration considering the size of this spinner bait.
Also, the surface of this blade is coated with the material, which makes the blades shine more naturally.
It is very effective under the tough condition and its flat part enhances flashing power, increases the power to attract fish. Its hook is also targeting big bass.
High Pitcher has 4 sizes from 1/4oz to 1/2oz.
It is very important to choose weight depend on the types of field.
What we were particular about was that High Pitcher can be used in the same feeling regardless of the weight.
The appearance, the snagless ability, the hooking power and we can use the same trailer worm, all those element are the same in 4 sizes. That is why High Pitcher can avoid miss hooking and catch more bass.
All model of High pitcher (1/4oz, 5/16oz, 3/8oz, 1/2oz) have the same wires and hooks, and the blades are also same from 5/16oz to 1/2oz. So, you can fish different columns with same feeling. And different color beads are equipped according to each size, you can pick up the one you want quickly from tackle box. In this way, very practical spinner bait was created.
DETAIL

Original blades have strong appeal.
Flat shape of front blade creates strong vibration and flashing, so it entices many bass. And because the surface is coated like fish skin, it has enormous effect against experienced fish.

The practical head shape
Head is designed to have low center of gravity to keep balance in spite of high power blades. Its shape is very practical because it deflects weed.

Each weight has different color beads
Helps you avoid confusing when you try to choose the weight you want.
色番号
色名(COLOR)
サイズ(SIZE)、重量(WEIGHT) DW & TW
Original
Eco
1/4oz
5/16oz
3/8oz
1/2oz
5/8oz
1/4oz
3/8oz
1/2oz
1oz(TW・DC)
S05
Black Shiner
○
○
○
○
○
○
○
S06
Vivid Pearl White
○
○
○
○
○
○
ST17
Spark Ice Shad
○
○
○
○
○
○
ST21
Spark White Chart
○
○
○
○
○
○
○
○
S22
Killer Gold
○
○
○
○
○
○
○
○
○
S23
Tasty Shad
○
○
○
○
○
○
○
○
○
S35
Impact Lime Chart
○
○
○
○
○
○
S38
Sunfish Tiger
○
○
○
○
○
○
○
○
○
S39
Chart Back Ayu
○
○
○
○
○
○
○
○
S50
Sunset Red
○
○
○
○
○
○
S51
Steal Shad
○
○
○
○
○
○
○
○
○
S55
C.B. Black
○
○
○
○
○
○
S56
C.B.Chart Blue Back
○
○
○
○
○
○
S57
C.B.Pearl Shad
○
○
○
○
○
○
S58
C.B.Bloody Shad
○
○
○
○
S61
Ghost Chart Blue Back
○
○
○
○
○
○
○
S62
Ghost Wakasagi
○
○
○
○
○
○
○
S63
LB Shad
○
○
○
○
○
○
○
S64
Wild Gill
○
○
○
○
○
○
○
○
S65
Baby Bass
○
○
○
○
○
○
○
Item list
O.S.P
O.S.P SALTWATER
O.S.PWORKS SECONDARY
WORKS LOCO