DUNK 48-F
SHAD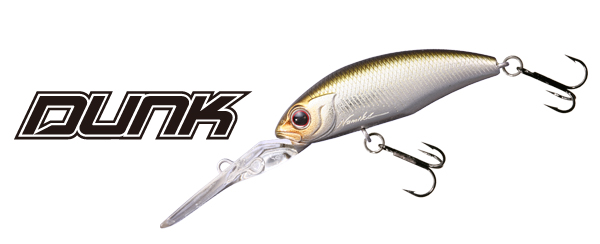 | | |
| --- | --- |
| Length | 48.0mm(1-9/10in.) |
| Weight | 4.7g(3/16oz.) |
| Type | Floating |
| Hook Size | #10 |
| Color | 11 |
| Released | August - 2002 |
The only one bait
The advantage of suspend lure is it can stay still and longer cast. Oppositely, floating lure exceeds suspend lure by the performances other than these two. It is not limited to Dunk, and should be able to be said to all plugs. Not to mention, long castability is very important because it creates much bite. However, it is possible that floating lure can fly farer than suspend lure of the same size depending on the design. Additionally, if you try to let it float, you can fish quite differently from when you use normal shad. Dunk SP is strong, super-aggressive small shad which can attack cover with its long castability and snagless ability. So, floating Dunk succeeded in improving snagless ability and maintaining castability as small shad. Moreover, pitch speed of floating shad is higher than suspend shad, so it has more appeal power. By letting it float while retrieving you can catch even suspending bass.
In addition, you can fish with floating shad real slowly, so it is very effective to inactive bass when water temperature is very low.
It can get a bite from bass that was unable to chase lure. If you try such technique as retrieving 20 or 30 cm and stopping it for a couple of seconds, you can appeal it for a long time to the fish. This technique can be done only by the lure like Dunk because it starts to swim very quickly and has more tail moving frequencies in a short distance.
Suspend bass appears mostly when surface water temperature is warmer than bottom at low water temperature period and after spawn and in such situation as there is a structure on the surface that makes shade. In such condition, just a little difference of retrieving range influences fishing result. Dunk F is the only one bait that can catch bass which suspend model or normal Shad can never catch.
DETAIL

Big hook but less trouble
Adopting #8 hook instead of normal #10 hook but never tangle each other and you can use it as slow floating.
Item list
O.S.P
O.S.P SALTWATER
O.S.PWORKS SECONDARY
WORKS LOCO