DoLiveBeaver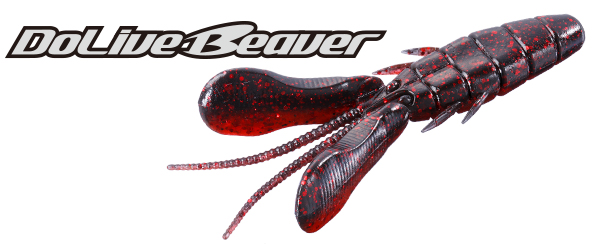 | | |
| --- | --- |
| Length | 3.5in |
| Color | 19 |
| Count | 6 |
| Released | Sep - 2017 |
Dynamic and lively "Vassallo" action
"The DoLive Beaver" was born as a new bait of hog bait. It has high performance like weedless, easy action, hooking and casting. And it also has lively "Vassallo" action (Vassallo like as Dolphin kick). That is the reason why this bait has succeeded the name of "DoLive".

Mostly the bait for cover fishing becomes simple because it needs to be weedless. So, action tends to be monotonous. But "The DoLive Beaver" is different. It has weedless simple body but at the same time it has precisely designed "Vassallo" puddle that swing up and down widely with its body waving. When you use light weight like 2g, it generates natural "Vassallo" action when it falls. Not to mention, heavy weight like 14g or more.

So, "The DoLive Beaver" is good for both slow fishing and quick reaction. When you let it swim, its "Vassallo" puddle moves up and down with body twisting. And if you let it swim faster, "Vassallo" puddle flaps up and down, light and left. Thus "The DoLive Beaver" stimulates the instinct of feeding of bass with lively action as if escaping crawfish.

Now that field condition is so tougher that even bass hiding in the cover are discerning and so anglers rely on various techniques, "The DoLive Beaver" is going to be new standard among hog bait.

The "Do-Live Beaver" 4inch Just like 3.5inch, The "Do-Live Beaver"4in has high total performance because it dodges cover easily and entice bass. It is also easy to cast and set the hook. It performs voluntarily and powerful "Vassallo" action. We should not be satisfied with the fact that 4inch is just a size up. The weight is 4g heavier than 3.5inch which is 150% up. The weight of 3.5inch is 8.2g and 4in 12.2g. That means long and accurate cast. And it shows overwhelming presence because "Vassallo" paddle stirs water wide when it falls and swims.

It has simple body shape which is ideal for cover fishing. But at the same time, elaborately designed "Vassallo" paddles swing up and down and that movement makes body swing. "Vassallo" action generates voluntarily when it falls and that makes slow fishing and reaction fishing easy. Even when you use light weight like 3.5g it acts very well. If you let it swim "Vassallo" paddles move up and down with body twist and if you let it swim fast, "Vassallo" paddles flap up and down, right and left and it awaken the instinct of catching bait of bass with lively action just like escaping shrimp. The"Do-Live Beaver" will accelerate with new and practical size line up without dead zone.


DETAIL

"Vassallo" puddle
It looks like normal pair of puddle but this is the engine of this bait which generates kick back wave motion of crawfish and shrimp automatically. It is designed vertically asymmetric to differentiate swing speed and creates lively action.
Gentle dent in a flat body
Flat body keeps stable posture under "Vassallo" action and contributes to improve hooking rate. This body shape helps slow and horizontal fall even when the bait does not equip weight like Carolina rig. So, quick and slow action is possible. Gentle dent designed in the center flat body helps conceal hook point when it get over cover like branch.

Beaded beard
Thin and long beaded beard imitating crustacean antennae does not disturb the action of "Vassallo" puddle but creates microwave by catching water. This is the symbol of manufacturing of O.S.P works because it paid particular attention even to details. 
Materials (with tasteful and fragrant powder)
The materials of "The DoLive Beaver" are exquisite matching considering the durability and action performance on the cover, and castability. By adding the powder of genuine shrimp and squid "The DoLive Beaver" entices bass bite with taste and scent.
3 inch model
DoLive Beaver 3 inch adopted twin curly tail to be used in tough condition with not only texas rig or leaderless dropshot but also widely used like dropshot rig or Carolina rig.
No
Color
Size
3
3.5
4
W001
WATER MELON PEPPER
○
○
○
W004
GREEN PUMPKIN PEPPER
○
○
○
W005
JUNE BUG
○
○
○
W009
MOEBI
○
○
○
W010
TENAGA
○
○
W016
BLACK
○
○
○
W027
DARK CINNAMON BLUE&PEPPER
○
○
○
W034
SCUPPERNONG BLUE FLAKE
○
○
○
W036
BUBBLE GUM PINK
○
○
○
W054
YOSHINOBORI
○
W059
SOLID WHITE
○
○
○
TW107
GREEN PUMPKIN/CHART
○
○
○
TW109
AMEZARI
○
○
○
TW115
SPRAYED GRASS
○
○
TW117
GHOST SHRIMP
○
○
○
TW136
KAWARBI
○
○
○
TW146
EBI MISO BLACK
○
○
○
TW155
GREEN PUMPKIN/PINK&RED FLAKE
○
TW186
ROCK SHRIMP
○
○
TW195
GORIMISO BLACK
○
○
TW196
WILD TENAGA
○
○
TW214
T.N. Flicker Green Pink
○
○
Item list
O.S.P
O.S.P SALTWATER
O.S.PWORKS SECONDARY
WORKS LOCO