HP 3D-Wacky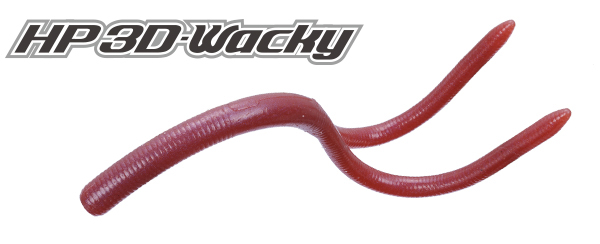 | | |
| --- | --- |
| Length | 3.7 inch / 4.3 inch / 5 inch |
| Count | 11(3.7in), 9(4.3in), 8(5in) |
| Color | 16 colors |
| Rereace | July-2018 |
This trembling action bewitches bass!
The "HP 3D-Wacky" is a new standard of next generation neko-rig. It can make even sophisticated bass bite although they do not bite existing straight bait. The reason is The "HP 3D-Wacky" is specialized only for neko-rig to strengthen the ability to gather bass and let them bite.
The major reason why neko-rig can catch more bass is the wave generated by bait. The "HP 3D-Wacky" generates wavy action with the whole body trembling. The action becomes more complicated because it has twin tail construction and so it can make even experienced bass bite.
Basic usage is neko-rig with 1.8~3g nail weight using octopus hook with weedless wacky hook or offset hook. If you shake it at the bottom it trembles and if you shake it when falling, it also trembles. If you let it swim it vibrates at high speed as if it was writhing. If you hang it on the branch and shake, the whole body trembles and generates irregular 3D slide fall as if worms playing each other.
The "HP 3D-Wacky" was born to create the new ground of neko-rig. You should experience that ability.
DETAIL

Trembling wave
Experienced bass will detect artificial bait if it moves unnaturally. On the other hand, bass shows interest in the wavy action which whole body trembles with constant rhythm. Bass will bite such movement of bait often. The "HP 3D-Wacky" has examined not only shape but repulsive power of material and salt content and realized trembling wave which bass likes.

3D action
If you shake normal straight bait by hanging, it moves up and down and attracts bass. But if you hang The "HP 3D-Wacky" on the branch and shake it, the body side and the tail side generates different water pressure. Then it slide falls like 3 dimension irregularly and generates action in every direction and invites a bass bite.

Straight twin tail without rib and taper
Among a lot of neko-rig bait that spoils action because they can't transmit the wave action generated at body side to the tail end, The "HP 3D-Wacky" transmits wave action firmly to the tip of tail by eliminating taper and rib.
Recommend Rigs and Hooks
Rig: Neko-Rig (Nail Sinker 0.9-5g) , No Sinker , Jig Head Wacky
Hook: N.S.S #1-1/0 (HAYABUSA)
No.
Name
Size
3.7in
4.3in
5in
W001
WATER MELON PEPPER
○
○
W004
GREEN PUMPKIN PEPPER
○
○
○
W015
BLUE GILL
○
○
W016
BLACK
○
○
○
W027
DARK SINNAMON BLUE & PEPPER
○
○
○
W034
SCUPPERNONG BLUE FRAKE
○
○
W050
MIMIZU
○
○
○
W075
STEALTH MIMIZU
●
●
●
TW107
GREEN PUMPKIN/CHART
○
○
○
TW117
GHOST SHRIMP
○
○
○
TW136
KAWA EBI
○
○
TW139
NEON WAKASAGI
○
○
○
TW146
EBI MISO BLACK
○
○
○
TW147
MORNING DONE
○
○
○
TW148
GREEN PUMPKIN/PINK
○
○
○
TW195
GORIMISO BLACK
○
TW198
NATURAL MIMIZU
○
○
TW203
ISOMEN
●
●
●
TW204
MANMA MIMIZU
●
●
●
Item list
O.S.P
O.S.P SALTWATER
O.S.PWORKS SECONDARY
WORKS LOCO