DoliveStickFAT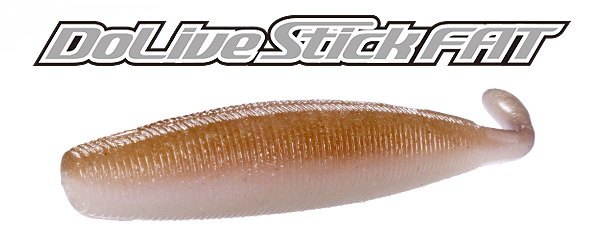 | | |
| --- | --- |
| Length | 4.5in |
| Color | 22 |
| Count | 7 |
| Released | April - 2016 |
Over 11g weight! Guarantees you comfortable pitching and long casting of weightless rig
Originally, "Do-Live Stick" was not developed to be used as back slide hook setting. But inserting the hook from rear part makes "Do-Live Stick" slide backward and proved to catch many fish. So it is becoming famous as back slide bait.

Still, sometimes there is a situation that even when you use 4.5inch (8.4g approx.) you can't carry the bait to the spot you aimed or you can't make good casting in the wind when you try to make the bait slide back under cover.

Natural falling action of "Do-Live Stick" is indispensable but anglers needed bait that has more castability and performance for cover fishing.

"Do-Live Stick Fat 4.5" was born from such demand. It realized thicker body shape that generates ideal voluntarily action.

The length is almost the same as original 4.5 inch model but "Do-Live Stick Fat 4.5" is 2.5g heavier (total weight: 11g or more).

It makes comfortable approach against heavy cover and can fish long range.

Needless to say, normal hook setting is also available. The combination of dart action by twitching and falling action that shakes the tail finely performs efficient check in the lateral direction.

Recommended hook is 4/0~5/0 wide gap to let it perform voluntary action 100% and to have firm setting the hook.

≪Recommended rig≫
Weightless rig back slide setting, normal setting

≪Recommended hook≫
Wide gap 4/0~5/0 offset hook , straight hook
FINA:T.N.S Offset、FPP Offset etc.


DETAIL

Slit
Although it has tall body, hooking ability is excellent because it has slit where the hook is rigged. Also it has ideal snagless ability because it has rib on the back to conceal hook point.

Center line
By rigging the hook along the center line, it generates natural roll action because of good right and left balance. And the center line on the back of head part is a mark where hook point should come out when you use off set hook for back slide setting.
Item list
O.S.P
O.S.P SALTWATER
O.S.PWORKS SECONDARY
WORKS LOCO