O.S.PJIG ZERO ONE "STRONG"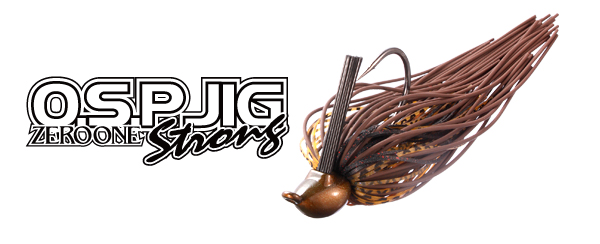 | | |
| --- | --- |
| Weight | 11.0g/14.0g/21.0g |
| Skirt | Silicone rubber & ultra-thick living rubber |
| Released | October - 2009 |
Only for big bass! Ultra-ultra-ultra-strong jig debut!
O.S.P JIG ZERO ONE is the ultimate cover jig which improved total performance dramatically. It has both snaglessness and hooking performance at the level of new dimension.
O.S.P JIG ZERO ONE STRONG installed ultra-thick rubber which attracts big bass amazingly.
And to match the volume of skirt and presumably big trailer, O.S.P JIG ZERO ONE STRONG adopted bigger hook.
O.S.P JIG ZERO ONE STRONG is a super strong jig for big bass hunter throughout the world because this jig is specially designed for big bass.
DETAIL

Skirt
The skirt of O.S.P JIG ZERO ONE STRONG is a mixture of silicone skirt that attracts bass with distinguished appearance and flexible ultra-thick rubber (photo A) that creates dynamic action. The strong point of this skirt is flexible lively action. It entices bass with complex action as if it were alive. Especially its escape action is effective to big bass. When it falls and swims, it throb whole body.

Ultra-strong hook
High quality hook is stronger than the diameter of wire by flat out processing. O.S.P JIG ZERO ONE has 2/0 hook but O.S.P JIG ZERO ONE STRONG has 4/0 hook. Moderately thick heavy wire has both hooking performance and strength. Hook point is not only sharp but also tough and durable, so the life of jig gets longer.

Oval guard
The key of cover jig is nothing but weedguard. O.S.P JIG ZERO ONE STRONG bundles necessary brush guard for each weight into an elliptical shape and plant them horizontally to the hook point. Then by narrowing the gap between hook point and brush guard, ZERO ONE prevents branch from entering from side when landing or falling. In addition, brush guard can be tuned like V shape because the material of guard is very flexible. So this guard is quite ideal because it has both hooking and snagless ability.

High position eye
Eye is installed on higher position than center of gravity of head, so O.S.P JIG ZERO ONE STRONG can stay horizontally and tempt bass naturally. And even if jig lies in the mouth of bass after bite, high line eye can make it stand up at the very moment of hooking. Thus you can set the hook firmly deep in the upper jaw instantly.

The shape of head
It has best snaglessness against all kind of cover. If you push front part to the structure, you can hang it slightly. So, expert technique like hang- off can be done easily.
Item list
O.S.P
O.S.P SALTWATER
O.S.PWORKS SECONDARY
WORKS LOCO