ASURA O.S.P RUDRA 130 MSF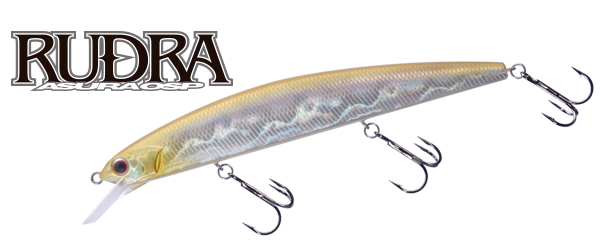 | | |
| --- | --- |
| Length | 130.0mm |
| Weight | 18.2g |
| Type | Medium Slow Floating |
| Hook Size | #4 |
| Color | 7 |
| Released | March-2016 |
The reason of MSF (medium slow floating)
The weight of suspending model(SP)"RUDRA" is 20g, whereas floating model(F) is 17g. This means floating model is designed to be highly floatable.

Both have good castability even in the wind because of weight transfer system. But in gusty condition, SP is absolutely predominant.On the other hand, F is overwhelmingly predominant in retrieve response and quick bottom knock and avoidance performance.So, MSF aimed between F and SP. Its weight is 18.2g

MSF adopted 2 tungsten balls for weight transfer system. The weight is approximately double compared to F. This 1.2g difference changes the performance of the lure greatly. For example, even in gust wind you can cast long distance from shore to the spot which has the risk of hang. Or you can make the most of MSF where weed top is too low to use F model. You can handle MSF as if when you use SP because you can let it float and dodge weed.

In short, MSF is another floating model placing in the gap between SP and F. It works in a lot of scenes beyond imagination to prove its performance firmly.
DETAIL

Weight transfer system with double tungsten ball
The size of transferring weight of F model is steelΦ5.6mm×2(1.40g),whereas MFS model equips tungstenΦ5.5mm andΦ5.0mm (total 2.74g). So MFS floats a little slowly and has long castability in the wind.

Honey comb super HP body
The thickness of side body is 40% reduced (compared to the products of our company). It realizes reducing total weight but maintains intensity by honey comb structure. The technology which surpasses the limit of ABS resin realizes both lightness and strength. It generates low center of gravity and helps quick swim start, brisk swimming as if real bait and good response.

Full flat body
The "ASURA" originated flat side concept minnow. It generates stronger flashing and water displacement than round body minnow. More than 10 year data shows its achievement. Flat side has enough capacity to equip maximum weight (same total length × width × height) as long as suspend model is concerned. And so it has long castability.

The Best Lip For Jerkbait
Thin lip is not always good in every kind of baits. MSF has adopted the best material and shape to realize flashing dart with roll action that shows its belly and high pitch action with simple retrieve.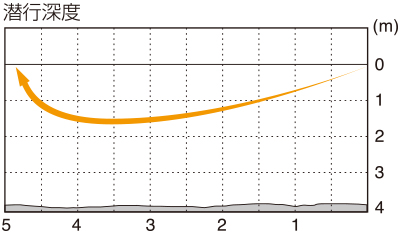 Item list
O.S.P
O.S.P SALTWATER
O.S.PWORKS SECONDARY
WORKS LOCO