TYPHOON
SPINNER BAIT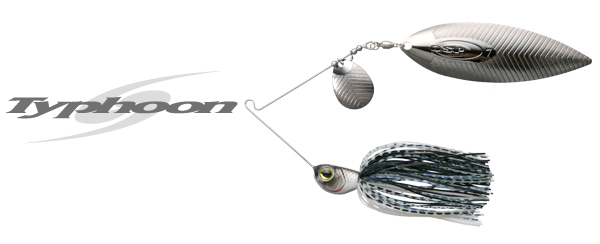 | | |
| --- | --- |
| Weight | 3/4oz・1oz |
| Blade Type | 3/4oz.TW(Front#3.5、Rear#7) / 3/4oz.DW(Front#3.5、Rear#7) / 1oz.TW(Front#4.5、Rear#10) / 1oz.DW(Front#4.5、Rear#7) |
| Released | October - 2002 |
No substitute
Even though you are fascinated with strong gathering power of big bait, but sometimes you are not satisfied because big bait is not almighty." If there is a hard big bait we can retrieve in the middle of cover instead of outside". That is the desire which triggered the development of "Typhoon".Fundamentally, spinnerbait is the best lure for cover fishing among all hardbait. When it touches cover, irregular flashing occurs. That has enormous effect. Tight approach to cover does not give big bass a time for consideration, and let them bite instantly.
Thus, Typhoon was born as a super strong weapon.As a blade for bass lure ♯8 was the biggest at that time, ♯10 blade was developed this time for tandem willow type. Needless to say, it is not just big, but the accumulation of original concept for actual fishing.First of all, heavy retrieve feeling of big blade was regarded as fate. Unsolvable. But Typhoon has realized smooth retrieve feeling even powerless Japanese angler can retrieve whole day. And the surface of blade was coated to suppress excessive flashing, so it is not detected easily by bass under high pressure field or clear water. In actual use, Typhoon can attract bass from shallow range in spite of heavy weight. And not to mention, attract bass from deep range and make them bite quickly. When it gets into the zoon it rages as if there is no substitute.But fishing with Typhoon is not gamble.The big difference from other big bait is Typhoon can often catch small bass like 20cm. Needless to say, its appeal power to big bass is much stronger than that of normal spinner bait.Namely Typhoon can catch bass constantly as a normal spinnerbait, and at the same time it has potential which normal size spinner bait does not have.The secret is that the blade of Typhoon is big but the head is normal. That's why bass can bite easily.Therefore Typhoon has solved the contradiction of big bait. It attracts bass with its big blade and let them bite with normal size head. It has both appeal power and ability to elicit bite.
DETAIL

Heavy weight head
The weight of blade is 7g (#7), 11g (#10). This heavy weight is not to fish just deep range but to cast big blade which has much air resistance and to realize stable swimming. Typhoon is effective from 1m ~5m column or more.

Recommended rod
Medium heavy and regular taper 6.6ft or more is recommended. Slim but thick butt is desirable because powerful rod has good castability and easy retrieve. The whole blank contributes to absorb the load.

Ultra-big blade
Moderate rotation angle and the shape that has less water resistance realized smooth retrieve. You can retrieve it whole day.
Color No.
Name
Size/Weight
3/4ozDW
3/4ozTW
1ozDW
1ozTW
S05
Black Shiner
○
○
○
○
S09
Ice Shad
○
○
○
ST17
Spark Ice Shad
○
○
○
ST21
Spark White Chart
○
○
○
S22
Killer Gold
○
○
○
○
S26
NAT Bait Fish
○
○
S38
Sun Fish Tiger
○
○
○
○
S39
Chart Back Ayu
○
○
○
○
S50
Sunset Red
○
S51
Steele Shad
○
S61
Ghost Chart Blue Back
○
S62
Ghost Wakasagi
○
S63
LB Shad
○
S64
Wild Gill
○
S65
Baby Bass
○
○
S70
Black FL Silver
○
Item list
O.S.P
O.S.P SALTWATER
O.S.PWORKS SECONDARY
WORKS LOCO