BUZZN'CRANK
a crankbait that performs like a buzzbait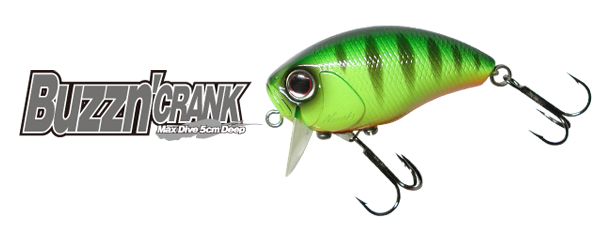 | | |
| --- | --- |
| Length | 50.0mm(2in.) |
| Weight | 10.0g(3/8oz) |
| Type | TOP |
| Hook Size | #6 |
| Color | 12 |
| Released | July - 2000 |
a crankbait that performs like a buzzbait
Buzzn'CRANK became a pioneer in its field when it brought about a new genre of lures called "Topwater Crankbaits". This topwater crankbait produces strong waves on the water surface as if it were a buzzbait. Its maximum dive is a mere 2inches, the world's most shallow-running crankbait! Its appeal, different from that of other crankbaits, not only allows you to catch a lot of bass, but is also effective with big bass, which is always a great tournament winner.
DETAIL

Vertical Wide Lip
The lip is placed vertical to the body in order to create intense wobbling actions that bass find highly appealing. Its snagless attribute also results from this vertically placed wide lip.

Surface Rig
The surface rig plays a key role in keeping the hooks and lip from getting entangled. Although slightly large for a 2" body, a #6 hook was imperative to decrease the number of missed bites, a problem with most topwater lures.

High Response Body
The materials used in the inner core was limited to the bare essentials in order to construct a lightweight body. Fast wobbling actions were made possible by centralizing the gravity of the body.

Balanced Hook System
By replacing the standard vertical eye with a horizontal eye, the hooks became symmetrical to the body, producing an ideal setting for efficient and balanced hooking. Also, because a horizontal eye has less back and forward movement, the risk of the hooks getting entangled are greatly reduced.
Item list
O.S.P
O.S.P SALTWATER
O.S.PWORKS SECONDARY
WORKS LOCO