YAMATO Jr. SPEC2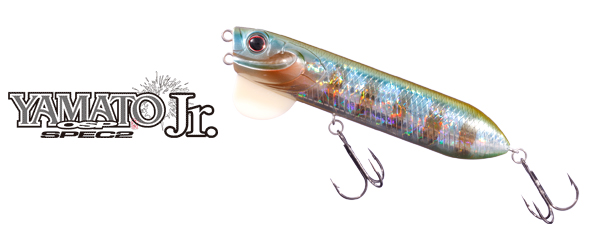 | | |
| --- | --- |
| Length | 94.0mm |
| Weight | 17.5g |
| Type | Floating |
| Hook Size | #4 |
| Color | 11 |
| Rereased | June-2013 |
Heavy hit of bone material and double tungsten rattle!!
The SPEC2 changed the body material to bone to cope with the situation where the rattle sound is effective. By adjusting the weight, the buoyancy is increased, and the action is agile and has a strong appeal. In addition, the weights of the front and center have been changed from steel to tungsten to generate rolling noise and intense deep bass. In addition to the splash and pop sounds during the dog walk, the rattle effect of "Gyoro" by double tungsten was added to double the appeal. In addition, the line is lightly stretched, the lure is shaken slightly, and the technique of biting with a rattle sound is also supported at a high level. YAMATO Jr. SPEC2 induces a bite with a unique appeal power using the rattle sound that big bass cannot ignore as a weapon.
DETAIL

Original ABS resin
Original ABS resin was developed by unique mixing after long pursuit of sound to enhance appeal power.
Item list
O.S.P
O.S.PWORKS SECONDARY
WORKS LOCO