BLITZ MAGNUM MR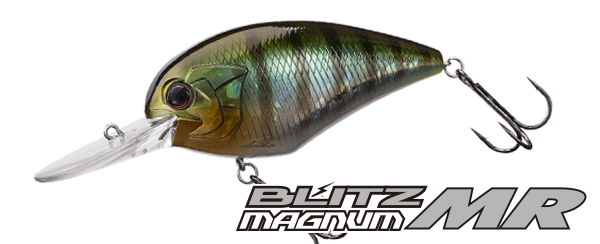 | | |
| --- | --- |
| Length | 90.0mm |
| Weight | 45.0g |
| Type | Floating |
| Hook Size | #1 |
| Color | 11 |
| Release | Nov-2019 |
The shortest way to big bass. You will feel you are using regular size.
The strong point of big crankbait is it can search wider area quickly by long cast and it has overwhelming appeal power with wobbling action which displaces the water right and left. Also, it seldom hangs when it touches the structure because it has snagless ability. And it tempts bass when it dodges the structure by floating. Those are also the charm point of this bait. It makes big bass react which never attacks regular size bait. So, a lot of anglers pay attention on big crankbait because it can catch big bass.
The Blitz Magnum MR: Overwhelming usability ahead of class No.1 performance

This bait was developed searching for the big crankbait which can be used by all the anglers very easily and comfortably because it has No.1 performance. As for weight transfer system which is the key of the total performance of crankbait, this bait has not that system because it has enough castability. The crankbait of fixed weight has no surplus flesh like rails, therefore it starts to swim quickly and generates lively action and it seldom hangs because it returns to original posture when it touches the structure. Also it has much more physical advantage than mere fixed weight type because it is lighter and has fixed center of gravity. The secret is Super Honey Comb Super HP Body (PAT.). This makes the body 40% thinner without reducing strength. Fixed weight body highly enables you perform angler's skill like letting it stuck on purpose and float and dodge the structure because it has good sensitivity. Then the synergy effect of quick swimming start and flashing of semi flat body increase bite. The Blitz Magnum MR is a big crankbait that swims middle water, easy to cast, easy to retrieve lightly, easy to keep on fishing whole day and it attracts bass very strongly.
DETAIL

Honey Comb Super HP Body (PAT): This has made the body 40% thinner without reducing strength.( compared to O.S.P product)

Fixed center of gravity weight: Adopted the best weight for middle runner crankbait. Rear weight is specially made low center of gravity type
Item list
O.S.P
O.S.P SALTWATER
O.S.PWORKS SECONDARY
WORKS LOCO