HP MiNNOW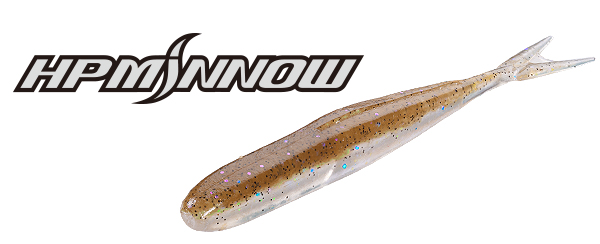 | | |
| --- | --- |
| Length | 3.1in 3.7in |
| Color | 21 |
| Count | 8(3.1in)、7(3.7in) |
| Release | July-2017 |
Realistic action generates solid bite
"The HP Minnow 3.1" is super multi performance minnow which has lively action and availability for many kinds of rigs.
To make fish regard lure as real bait is necessary to get bite from not only feeding bass but normal bass. "The HP Minnow 3.1" sought for ideal body shape and exclude unnatural movement. Only the part you want to move moves lively. Weightless rig generates I-shape action without unnatural staggering and sinks very slow because of selected material. That is why suspend bass notice the bait. Sharp dart action with twisting body, V-tail moves by short pitch shake, rear body trembles by simple retrieve. This action should be called super real. "The HP Minnow 3.1" will be the standard of next generation because it is never detected by bass.
Weightless rig with octopus hook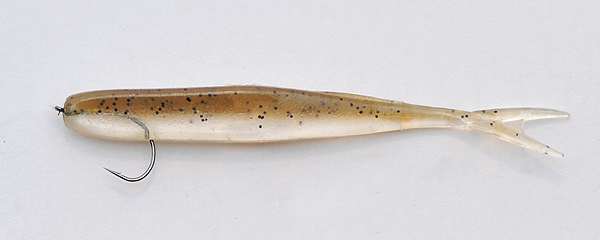 Weightless rig by downward inserting of octopus hook is the best for I-shape action. (If you use weedless octopus hook, cut the guard leaving about 1 mm then it works as worm keeper. So you can have firm rigging) What is important is to insert the hook in the middle of the worm straightly. So it performs various action like I-shape action by slow retrieve and wide wobbling by medium retrieve and high pitch wobbling by fast retrieve,
Nose hooking for weightless rig and drop shot rig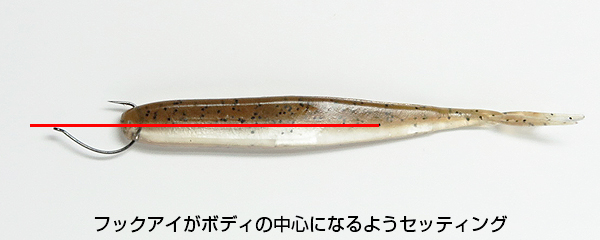 This is a standard rig everyone can rig easily and good for various rig like weightless rig, dropshot rig, carolina rig. It can generate maximum ability to entice bite. Nose hook the worm to keep the line eye at the extension of center of the body. That is the best rigging. Refer to the video for correct rigging.
Weightless rig with offset hook (FINA T.N.Soffset#3、thin offset hook#3~#2)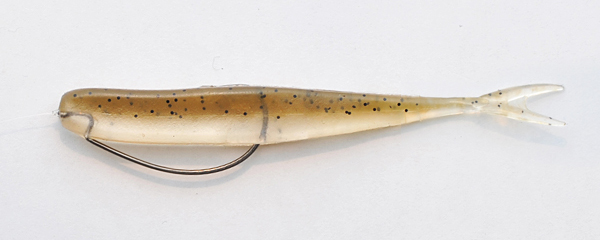 We recommend this rig to catch bass around structure or feeding area. Just pick out the eye of hook from the head, pass through the slit and bury only the hook point in the body, then you can have straight setting. Worm body does not bend when you skip, so you never miss the bite chance because body does not hold hook gap.
Drop shot rig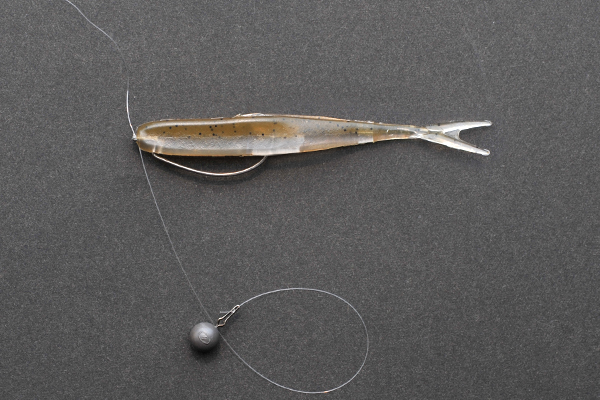 "The HP Minnow 3.1" is also good for drop shot rig because this material and design keep worm horizontal posture. V-tail reacts sharply to subtle rod work and vibrates finely. If you shake it in almost the same position it will be a strong weapon under tough condition.
Jighead rig(hook size #3~#2)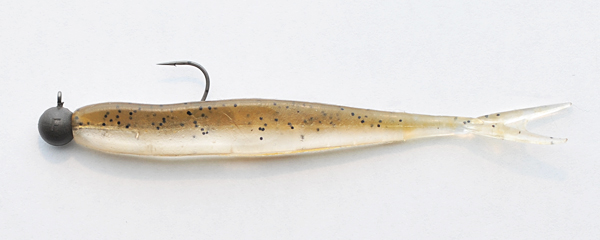 When you tempt bass in the middle water slowly, simple retrieve is fundamental. If you retrieve it fast, its rear body wobbles and generates the action as if bait fish were running away.
Trailer for small rubber jig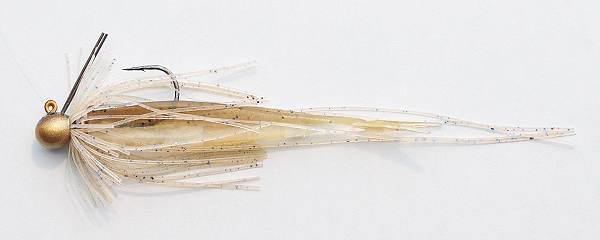 "The HP Minnow 3.1" is also available for rubber jig trailer because it tempts bass with finely vibrating tail without disturbing the movement of the rubber. If you rig it after cutting the head moderately, hook point comes out of long slit part. So, you can easily rig the bait straight to the small rubber jig which many anglers feel difficult.
Split shot rig and Carolina rig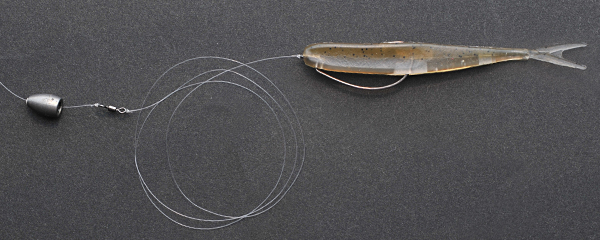 Sometimes I-shape action of split shot rig or Carolina rig around bottom or middle water catch more fish than other rig. Slow retrieve or dragging will open new gate for middle to deep water fishing.
DETAIL

Symmetrical body
The body of "The HP Minnow 3.1" is designed to be symmetrical. Even when the worm is worn out, you can rig it again by turning over. Then worm acts as fresh bait.

Side concave
The characteristic action of "The HP Minnow 3.1" is I-shape action. Head shape that disperse water flow equally and side concave reduce staggering and perform stable swimming action when slow retrieve.

Through type long slit
The problem of I-shape worm was unnatural movement because of non-straight inserting of offset hook. Through type long slit cleared this problem. Everybody can rig the hook straight and enjoy stable I-shape action by letting through the offset hook in the long slit and fixing hook point on the body. When water flow goes through slit, there occur strong vibrations like bait fish are running away desperately.
No.
Name
Size
3.1in
3.7in
W001
Water Melon Pepper
○
○
W004
Green Pumpkin Pepper
○
○
W014
Light Smoke Pepper & Rainbow Flake
○
○
W027
Dark Cinnamon Blue & Pepper
○
○
W038
Cosmo Black
○
○
W044
Disco Green
○
○
W056
Shirauo
○
W063
Clear

●

●

W064
Temptation Pink

●

●

TW102
Soft Shell Smoke
○
TW107
Green Pumpkin Chart
○
○
TW117
Ghost Shrimp
○
TW127
Sight Special
○
○
TW134
Lively Wakasagi
○
○
TW139
Neon Wakasagi
○
○
TW143
Ghost Lime Chart
○
TW147
Morning Done
○
TW158
T.N.Smoke Lady
○
○
TW182
Clear Wakasagi
○
○
TW185
White Chart
○
○
TW192
Pro Blue Bait Fish
○
○
TW193
Uroko Wakasagi
○
TW197
Pink Back Shiner
○
Item list
O.S.P
O.S.P SALTWATER
O.S.PWORKS SECONDARY
WORKS LOCO