DoLive Curly
CURLYTAIL WORM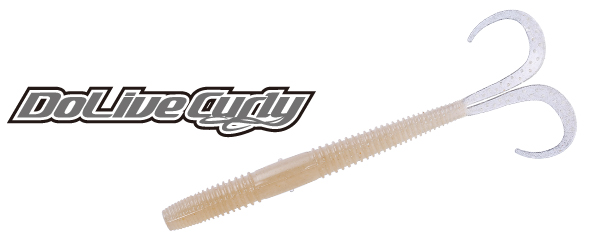 | | |
| --- | --- |
| Length | 4.5in |
| Color | 20 |
| Count | 8(4.5in) |
| Releace | Sep-2015 |
Sensitive twin curly tails make all kind of temptation possible.
Generally speaking, the strong point of curly tail worm is its appeal ability. When it falls or swims, it bends its tail and searches fish effectively by its side movement.

But it is not good at getting bite from pin spot, because it does not respond to subtle rod work like shaking.

To fill the gap, Do-live curly pursued tail action which responds to subtle rod work.

What made creating bite by on-the-spot shaking possible is well designed twin curly tails

Two tails move as if they are playing each other. That unique action is very sexy which single curly tail can never produce.

Do-live curly has created one and only shaking action because body twists very lively.

Plus, Do-live curly creates sharp bite when it falls or swims that is strong point of curly tail. Because it moves firmly even by dead slow retrieve and performs bewildering wavy action that only twin curly tails can provide.

It acts like various kinds of bait fish, such as escaping shrimp or careless bait fish by rod handling.

Variety of action which is quite different from former curly tail worm can bring more bite to anglers.
DETAIL

Body
Body is semi-ring which displace the water and twists itself. Side flat form and twin curly tails keep balance, so it swims very stable in every rig. When you use neko-rig, it shakes its head as if bait fish pick the bottom and also it twists like crawler. Thus, not only tails but also body appeal to bass.

Tails
Twin curly tails which provide complicated action are composition of selected length, width, thickness and curly shape. It moves even when it falls very slowly when you use 0.5g weight and also well responds to shaking. Each tail does not interfere so it keeps moving. And thick outside displace the water well. The projection on the surface is to reduce sticking to cover.
Center line and hook marker
It has center line so you can hook set straightly and dot for neko-rig hook setting. If you want to rig snagless neko-rig you can find the best spot to pierce hook point. There is a dot near the non-rib part. Easy and precise hook setting produces best action.

Fish attractants
By combining genuine powder of shrimp and squid it elicits fish bite from its action and scent and flavor. Also it keeps effective long time because those powder are mixed with material.
Recommended rig
Neko-rig, Light texas rig, Carolina rig, Split shot rig, No-weight rig, Drop shot rig, Jighead rig
Item list
O.S.P
O.S.PWORKS SECONDARY
WORKS LOCO