BLITZ MAGNUM SR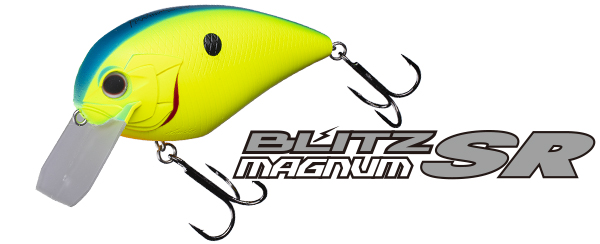 | | |
| --- | --- |
| Length | 90.0mm |
| Weight | 40.0g |
| Type | Floating |
| Hook Size | #1 |
| Color | 12 |
| Release | Aug-2021 |
The world of "Shallow Magnum Crankbait"
The bait that is effective to fish shallow area is crankbait. Target is the bass hiding behind all kind of structure like riprap or wood cover. It dodges obstacles and attracts bass by continuously emitting strong waves and elicits bite. Especially it is effective when water is muddy by rain and wind and where forages gather. No other crankbait can bring out such performance strongly than "Shallow Magnum Crankbait".
The 11th BLITZ
The BLITZ MAGNUM SR sought for No.1 performance by pouring the know-how of BLITZ series which was born in 2003. It starts swimming with high pitch action right after landing on the water and attracts bass hiding in the wall or structure by flashing generated by semi-flat body. Then it makes bass bite. For action and dodging performance, we pursued performance improvement from the internal structure as before without relying solely on lips. That is why it has weight reduction of the body by Honeycomb Super HP body (PAT.) and fixed center of gravity for quick swim start and response. Custom-made weights are easy to shake even while floating, so temptations are not interrupted. Due to the low center of gravity, the posture can be quickly restored, and the synergistic effect with the lip shape and a flat tip makes it difficult to fall sideways and has high dodging ability. The Blitz Magnum SR is shallow Magnum crank bait with improved overall performance that can cast a long distance, has a light retrieving resistance, and is packed with bite-inducing power.
How to retrieve
Straight retrieve is basic. If you want to retrieve around visible structure, "Stop and Go" retrieve which is repeating rotating handle half or twice and then letting the bait float is recommended. You should take time and make the bass aware of bait and entice bite. If the bass find the bait is artificial when you stop it, keep on tempting with dog walk in the water or continuous twitch or retreive little by little. Such retrieving method is effective.
Diving depth
Effective depth for normal use:0.5~2.0m
Max depth: 4.0m (with 16lb fluorocarbon line)
Recommended tackle
Rod: 6.8~7.2ft M~MH action graphite or glass fiber
Reel: Baitcasting reel
Line: Nylon 16~20lb、Fluorocarbon14~16lb
DETAIL

High response body
Honey Comb Super HP Body (PAT) has 40% thinner body (compared to our products) with the same strength. In addition to that, superfluous flesh is eliminated by reducing inner rib. So, it starts to swim quickly and shows high response beyond the limits of plastic bait.

The shape of lip
The flat lip pushes obstacles forward and dodges them. The corner of lip is round which makes the bait swim through obstacles without getting caught and improves the response.

Semi-flat body
The body shape is semi-flat which avoids being blown by wind when you cast and generates flashing. That is the key to catch more fish.
Item list
O.S.P
O.S.P SALTWATER
O.S.PWORKS SECONDARY
WORKS LOCO