i-Waver 60 F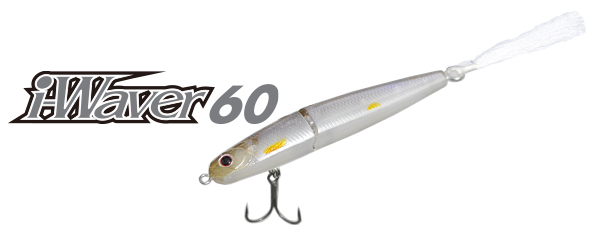 | | |
| --- | --- |
| Length | 60.0mm |
| Weight | 2.5g |
| Type | Floating |
| Hook Size | #10 |
| Color | 7 |
| Release | August-2020 |
The necessity of floating 60mm size I-shaped minnow
Recently the field condition is getting tougher and tougher. So it is extremely important to match the lure size. 60mm size lure is effective under such tough condition when bass does not bite because they detect lures. Also, it floats on the surface of the water, so bass does not seize the entire body of lure. That is why it triggers bass bite. The I-Weber 60 shows a natural floating posture due to the joint structure and asymmetrical specific gravity balance. Furthermore, the shimmering of the special fiber hair makes it more difficult to be detected. Bass are strongly conscious of smelt and insect on the water surface after spawning season, so floating lure is effective.
The Features of The I-Waver 60F
The I -Waver 60F has high specific gravity at front body and low specific gravity at rear body making the most of joint structure. So it can absorb the wave and wind at the joint and produces natural I-shaped action. The characteristic special fiber hair is extremely soft, and when it touches the water, it adheres to the body and contributes to reduction of air resistance. You can cast it long in spite of 2.5g lightweight body. As for how to fish, it is effective not only I-shaped action, staying on the surface of the water, but also twitching with rod tip putting into the water after you see bass's chase is also effective The I-Waver 60 has been born with new functions in a small body.
DETAIL

The reason why bass stop chasing when you give the bait I-shape action is up and down movement of body like seesaw made by wave or wind and the swing of line created by retrieve. In order to prevent such unnatural movement, joint structure is adopted.

The hook size is #10 to be able to hook up big bass and increases distance because 1 hook causes less air resistance.
Item list
O.S.P
O.S.P SALTWATER
O.S.PWORKS SECONDARY
WORKS LOCO