Tiny BLITZ MR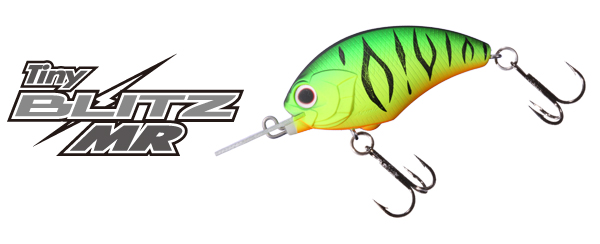 | | |
| --- | --- |
| Length | 44.0mm(1-4/5in.) |
| Weight | 6.3g(1/4oz.) |
| Type | Floating |
| Hook Size | #8 |
| Color | 9 |
| Released | July - 2011 |
The small crankbait that brings strategic revolution for angler.
"A whole new standard is constructed."
Small crankbait plays an active part in all fishing scene from top category pro tournament to holiday bank anglers. And it is often kept secret because it has high ability. It is one of the most effective lures especially when bass become nervous by too many anglers on holidays. We did not aim at mere downsizing but the performance of next generation which clearly transcends present level. The advantageous setting with honeycomb super-HP body (PAT.) that achieved lightening which exceeds the limit of ABS resin and ultra thin slash bill breaks the common sense of current small crank and constructs new standard .
"Unconditional merit system"
Normally, shallow and middle range crankbaits are used from stain to muddy water, but Tiny blitz MR is available in any kind of field from clear water to muddy water. To get bite under all circumstances, non-rattle and lively tight action like shad is effective. Moreover, it should be used easily by both spinning and baitcasting tackle in each situation. Actually, there have been only a few such crankbait that we can use without any frustration with both spinning and baitcasting tackle. Namely, you feel too much lure action by spinning tackle, on the contrary you don't feel any action by baitcasting tackle.
And you can not cast long by baitcasting tackle.
Here we have reached the requested performance available in any field with any tackle.
"Satisfy the demand completely"
Tiny blitz MR has fixed center of gravity, but realized long castability with stable flying attitude. The flashing by semi-flat body is like tight and natural feeling of shad, keeps tempting fish without patter even when you retrieve very fast. And when you retrieve slowly, it appeals with fascinating wobble and roll action. It has good snagless ability, so it never misses the orbit even when it hit structure. Thin and hard HP slash bill is so sensitive that it transmits much information like bottom material.
The reason we set the specific gravity as slow floating is to let them bite by appealing long time to inactive bass under low water temperature.
Tiny blitz MR will innovate angler's strategy because it creates quick fishing by making the most of its ability.
DETAIL

Honey comb super HP body (PAT.)
The first special structure in fishing society developed for action by paying attention to lightening body.

Non-rattle fixed weight
It realized stable swimming and dodge ability around structure, castability is also excellent.
Item list
O.S.P
O.S.P SALTWATER
O.S.PWORKS SECONDARY
WORKS LOCO