YAMATO O.S.P
PENCIL POPPER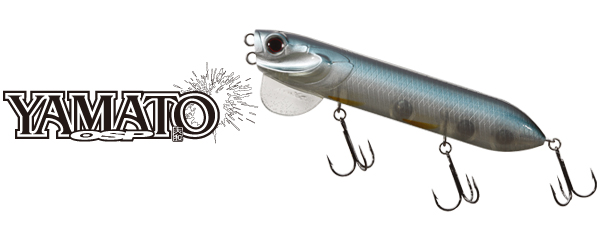 | | |
| --- | --- |
| Length | 118mm(4-3/5in.) |
| Weight | 28g(1oz.) |
| Type | Floating |
| Hook Size | #4 |
| Color | 13 |
| Released | October - 2006 |
ever-changing surface magician
Three cups engraved in front, board under joe and two line eyes. These strange shape relate to every action. The strong lure with various action based on pencil popper of new field was born.
Actually lure called pencil popper has thin body, so size of cup also become small. Therefore it excels in dog-walk action like escaping bait fish and get bite by soft sound, but it was not so good in decoing bass out from a large area. So what O.S.P aimed is to develop new lure which has strong point of pencil popper, strengthened appeal power, and is anyone can manipulate easily. The development over a long period of time piled up maturity, O.S.P adopted two eyes to meet various kind of situation. By using them properly, it acts widely not only surface but subsurface. As a result it became possible to gather bass from wide range even in tough condition. When bass is conscious of surface, lower "high appeal eye" is recommended. By the effect of center board it creates high pitch dog walk action which moves forward briskly with one action. So it act as top water plug which has strong appeal in spreading sound and splash to the circumference. That is why YAMATO can catch bass which you can't catch so far from the spot you aimed. On the other hand when bass never appears on the surface, upper "diving eye" is recommended to fish subsurface. First, letting it dive by strong jerk and twitching rod with short pitch, it shakes head right and left with flashing like jerkbait. And simple retrieve makes YAMATO as swimbait which goes S like action and attracts bass.
The birth of O.S.P YAMATO enables anglers fish variously along with the situation. It works as topwater plug which has strong appeal, as flashing jerkbait,as S like action swimbait without changing lures. Indeed YAMATO has reversed the concept of pencil popper and established new genre as surface multi action bait.
DETAIL

Sidecup
Normally pencil popper has only one cup in front, but YAMATO equipped sidecup on both side and the bottom was made to push out like a lip. When dog walk, it wind up water greatly by semicircle movement of a head, increases the sound of splash and popping.(at the time of high appeal eye use)

Center Board
Center board under the front works as rudder, controls current effectively. And it deals with a stream efficiently. It plays important role like enlargement of turn angle, increasing of splash, stability of retrieve.

High Appeal Eye
A peculiar pop sound which an intense dome splash and three cups weave because a front section pushes up water strongly and agitates [ while carrying out the strong roll & dive which shakes a belly to just beside a head ] is sprinkled around. By rapid pace dog walk which is another feature, it is conquerable thoroughly.

Diving Eye
It is effective, when approaching under the situation of being hard to come out to the water surface. At a gradual rod work, dog walk of the bottom of the water surface is carried out, and it appeals to bass by strong flashing. By a simple retrieve, it floats by S character system action while going underground and rolling directly under the water surface, and bass near the surface is merely lured out.
Item list
O.S.P
O.S.P SALTWATER
O.S.PWORKS SECONDARY
WORKS LOCO