TINY BLITZ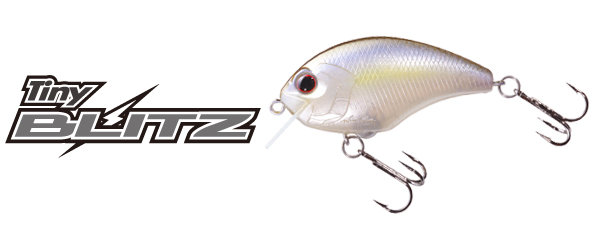 | | |
| --- | --- |
| Length | 46.0mm(1-9/10in.) |
| Weight | 6.5g(1/4oz.) |
| Type | Floating |
| Hook Size | #8 |
| Dives | 0~3ft.Floating |
| Color | 9 |
| Released | April - 2014 |
Completes the lineup of O.S.P lures and fish this moment
Tiny Blitz is developed aiming at the performance to catch more bass under the condition which varies year by year.
The necessity for Crankbait is high under tough condition like weekend high pressure lake, bank fishing where you have to fish after other anglers, or when you have to fish around structure of clear lake.
But talented crankbait has tremendous power to create bite of big bass which does not respond to slow fishing.
Tiny blitz is easy to handle both with spinning tackle and bait casting tackle. It swims around 0.3 ~1.0 meter depth where former O.S.P crankbait did not.
Tiny Blitz is designed more conscious of middle range retrieve than just swimming by hitting structure or bottom It creates bite regardless of swim speed because it has strong flashing by tall semi-flat body.
Ultralight honey comb super HP body and super thin HP slash bill which have been adopted since 2003 devote improvement of every kind of performance like action or snagless ability.
Tiny Blitz is the crankbait to fish this moment corresponding to ultimate high pressure.
DETAIL

HP Honey comb super HP body(PAT.)
By reinforcing inside the body with honey comb rib, Tiny Blitz succeeded in 35% reducing the thickness of side body (compared O.S.P products) without losing firmness.
It adopts one fixed weight because rail for gravity movement spoils the response of swimming. And so, Tiny Blitz realized super high response swimming by thin body design which O.S.P has been adopting since the company was established.

HP slash bill
Tiny Blitz is equipped super thin 0.8mm HP Slash bill that is almost impossible by ABS resin. Therefore it obtains super sharp response and sensitivity when it touches structures. Wide and flat tip guards hook point, so it realizes high snagless ability because it taps structure so often and does not stumble too much.

Semi flat body
By making body semi-flat, Tiny Blitz realizes strong point of flat side crankbait with snagless ability of round crankbait. It tempts fish bite from wide area creating strong wave and flashing in spite of small body.
Item list
O.S.P
O.S.P SALTWATER
O.S.PWORKS SECONDARY
WORKS LOCO