DAIBUZZIN' HEAVY HITTER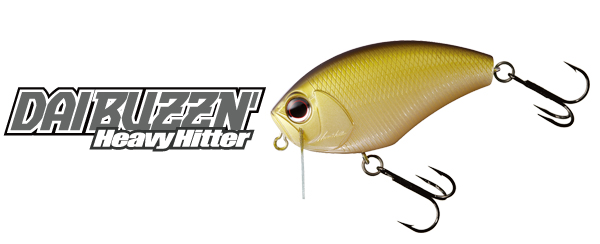 | | |
| --- | --- |
| Length | 64.0mm(2-1/2in.) |
| Weight | 17.0g(3/5oz.) |
| Dives | TOP |
| Color | 9 |
| Released | May - 2008 |
DANGER!! Noisy Crank. Explosive!!
DAI-BAZZIN' HEAVY HITTER was developed focusing exclusive appeal to big bass under certain condition. Normally big bass reacts the lure swimming surface with big sound. Needless to say, the quality of sound is important, because big sound sometimes causes opposite effect. After we studied quality of sound and volume, we reached O.S.P original blend resin and Mix which has rolling sound and wall knocking sound of big tungsten weight. When both sound occur simultaneously, special echo effect sound is created. This very double heavy hit and strong wake succeeded in wide appeal effect by pretending big bait. And even in the narrow spot that has limited productive zone,"double heavy hit" performs getting quick reaction bite by making bass notice the lure instantly.
DAI-BAZZIN' HEAVY HITTER attracts big bass widely and makes them bite in shallow game of from summer to fall and it also works in the river fishing which requires appeal in flow, needless to say, such condition as in muddy water, low-light, rain. DAI-BAZZIN' HEAVY HITTER is noisy system top water crank which hid explosive power to the extent when full capability is demonstrated.
DETAIL

Original ABS resin
As a result of researching sound to enhance appeal power, original blend ABS resin was born.
Item list
O.S.P
O.S.P SALTWATER
O.S.PWORKS SECONDARY
WORKS LOCO