BLITZ SSR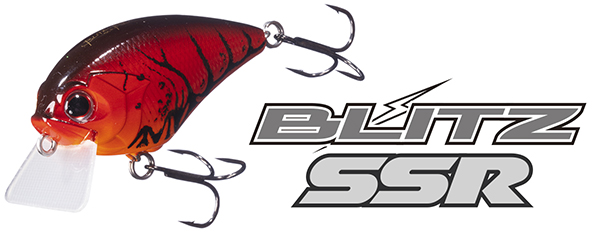 | | |
| --- | --- |
| Length | 51.1mm |
| Weight | 8.0g |
| Type | Floating |
| Hook | #6 |
| Ring | #2 |
| Color | 14 |
| Deps Max | 1.3m |
| released | May-2022 |
New standard for super shallow crankbaits
BLITZ SSR is a super shallow crankbait that swims with high pitch action in about 1m depth. It inherits the high basic performance DNA of the BLITZ series. The small lip of shallow crankbaits has advantages such as flying distance and light retrieve resistance. However, they also include the problem of being easily stuck. The characteristic wide square lip of the BLITZ SSR is a shape that emphasizes obstacle avoidance performance. Although the BLITZ SSR has a standard appearance, it incorporates many elements that help anglers catch fish.

Maximum depth: 1.3m (use fluorocarbon libe 12lb)
DETAIL
Honeycomb Super HP Body & One-Weight Underbalance. Honeycomb construction inside the body maintains strength while reducing weight and improving buoyancy. One tungsten weight ball is placed in the belly. Low center of gravity and centralized weights give it an ultra-high response action.

HP Slashbill & Wide Square Lip. Lightweight and ultra-thin lip produces high action response. Highly durable. The distinctive wide square lip prevents snagging even when approaching structure tightly.

Semi-flat body. The flat sides of the semi-flat body retain the snag-free performance of the round body, while creating a high flashing effect and strong water push to attract more fish than the size of the body.
Item list
O.S.P
O.S.PWORKS SECONDARY
WORKS LOCO