ASURA O.S.P VARUNA 110-S
JERK BAIT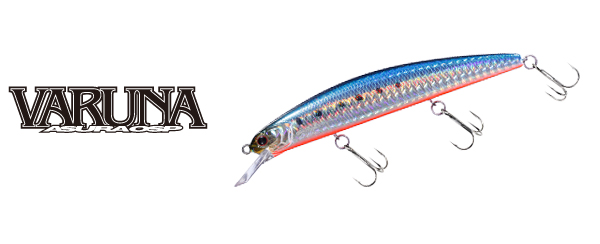 | | |
| --- | --- |
| Length | 113mm(4-1/3in.) |
| Weight | 18g(5/8oz.) |
| Type | Sinking |
| Hooksize | #6 |
| Ring size | Line eye #2 、Hook eye #3 |
| Dives | 0~8ft sinking |
| Colors | 10 |
| Released | August - 2015 |
The king of 11cm sinking minnow.
9cm minnow "Asura"was born 14 years ago and 13cm minnow "Rudra"was born 10years ago. Then 11cm minnow "Varuna" was established.
The previous 2 items were developed to be the No.1 among each class and they are doing good job throughout the world regardless of the kind of fish.
We were convinced of the necessary element from experience and achievement because we have been using them for a long time in the actual field. When we developed 'Varuna' it was possible to decide every specification like body and bill shape, the material and position and balance of weight without hesitation.
'Varuna' adopted full flat body which has both flashing effect to generate bite and excellent cast ability in the windy condition.
Honeycomb super HP structure (Pat.) is adopted inside the body. This achieved high response swimming ability because the ABS resin was lightened and strengthened.
3 small tungsten balls are loaded as movable weight. Its low center of gravity produces sharp action. And tungsten balls move to its tail, it has long distance and accuracy obtained from stable flying posture.
Sinking model has heavier fixed front weight, so it sinks 1.2 times faster than RUDRA130S. It has quite different swim level from suspend model.
By the effect that the center of gravity is located near front and bigger bill you can feel the vibration by just retrieve. 'Varuna' has tight and high response action just like bait fish.
VARUNA110S raises a total performance to the best without a blind spot, and also overwhelms the world of 11cm sinking minnow.
Item list
O.S.P
O.S.P SALTWATER
O.S.PWORKS SECONDARY
WORKS LOCO