Greetings y'all!My name is Jay Ferris.
I was born and raised in the U.S. but have resided in Japan since the age of 18.
While living in the states,I was introduced to the great sport of fishing through my father and never looked back.
Since moving to Japan, I continued to practice the art of fishing.
I have been fortunate enough to win a few tournaments in both,fresh and saltwater.
After winning my first tournament here, I was approached by a few Japanese fishing companies and officially became a sponsored angler.
For 2016 , (and hopefully much longer..lol) I was fortunate enough to be offered a pro staff spot with O.S.P., I look forward to this great learning opportunity,and can't wait to introduce to all of you OSP's great brand of fishing lures.
【Fishing Reports!】
Greetings y'all! Jay here.
It is now late fall,and we are slowly starting to move into the winter months here in Japan.
With the first really big cold front just past us, I decided to load up my rockfish rods with OSP's notoriously good DoLive Craw and DoLive Stick soft baits!
Figuring the bite should be turning on any day now, I headed on down to my favorite honey hole and wasn't disappointed!
I made some quick casts around the local jetties and was rewarded with a few decent sized Black rockfish and a super nice greenling!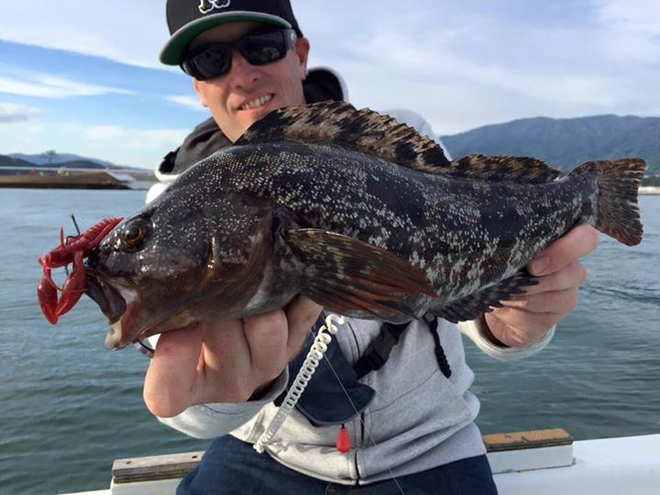 With the winter being rough on us old timers, I still cant help getting out there and catching these fellas!
●Hit Lures and rigs
For shallow water fishing, I was using OSP's DoLive Stick 3″ &3.5″ on a 3-5g jighead.
For deep water fishing, I choose OSP's DoLive Craw 3″ Texas rigged with a 18g sinker and #1 heavy off-set hook.