Developing staff of O.S.P Hashimoto section wins year end tournament of Typhoon Marina on 6th December with 3 fish 4430g using Varuna spec Ⅱ and Asura Ⅱsp. He caught 6 fish total more than 8kg including the practice of previous day.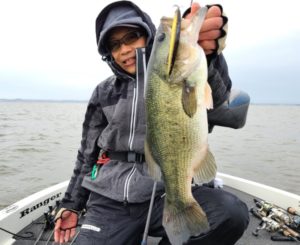 Every year- end I am excited with Typhoon Marina tournament because winner's prize is free boat parking for next year. But the weather of Chiba and Ibaraki pref. on the previous day was rainy. And it was very cold with hard north wind. Nevertheless the water temperature was unexpectedly high and I got many bites from morning. I gave 2 jerks and 1 pose to fixed weight Varuna Spec Ⅱ(black and gold orange belly) around structure of 1 meter depth. I sensed different feeling like something touching at every cast. Then I got a bite right after that and caught 1kg class fish.
There seemed to be lot of fish in the water because I got many bites of bass and other fish too. I even hooked mullet on the body. After that my partner got a big bite with High Cut SP (cinnamon pearl shad) in spite of he was annoyed by short bite. That fish weighed over 1700g!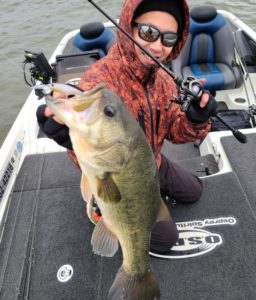 I did not think jerk bait pattern but I changed my plan and I started to check jerk bait area. So I went to the wave-dissipating block along east coast where north wind was blowing. There I caught many fish with Varuna in January several years ago. I convinced I can catch fish because the water was a little stain and I hooked salangidae when I jerked. I chose weight transfer Varuna SP(crown) in the wind and I caught 1kg fish.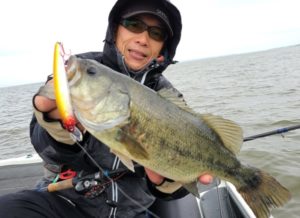 Mt partner missed fish with Varuna SP(chart back shiner). Again he missed at windy side rock area after that. We got 5 bites at 3 spot and caught 3 fish total about 4 kg. So the practice was very hot in spite of cold condition.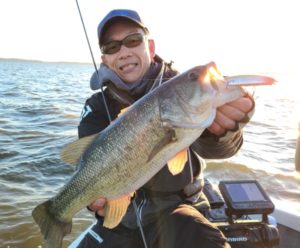 The tournament had 32 participants and they all wore masks. Our flight was 4th so we headed directly the spot. I caught 1400g by second cast with Varuna Spec Ⅱ-SF(crown).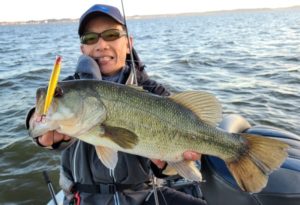 Right after that I missed bigger one but I caught over 1600g with the same bait.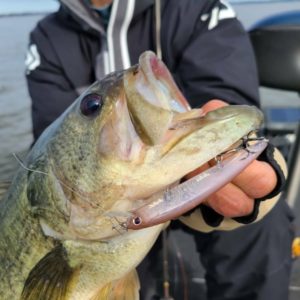 When the low light time was over and the clear sky was visible, I entered the silence time and got a bad feeling. We fished 3 area 2 times with Varuna, Duruga, High Cut but got no bite for 5 hours. We needed to size down the bait because of clear sky and pressure and the main forage was salangidae. But if we get the bite, the bass is big and fthe fight was very strong, so light line was dangerous. Then I chose 9cm AsuraⅡ-SP(pink lady)because I can use 12lb fluorocarbon line and it has small silhouette. That is my confident bait that I made utmost effort to renew mold last year. I went to the spot where we fished in the morning three times and caught 1400g fish by tempting with soft jerk just 10 minutes before the finishing time. So we made limit with jerk bait only.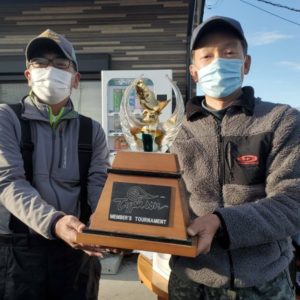 Total weight was 3 fish 4430g and we won the game. That is my record of Kasumigaura.
Jerk bait pattern begins from December every year. I t seems the season has started.