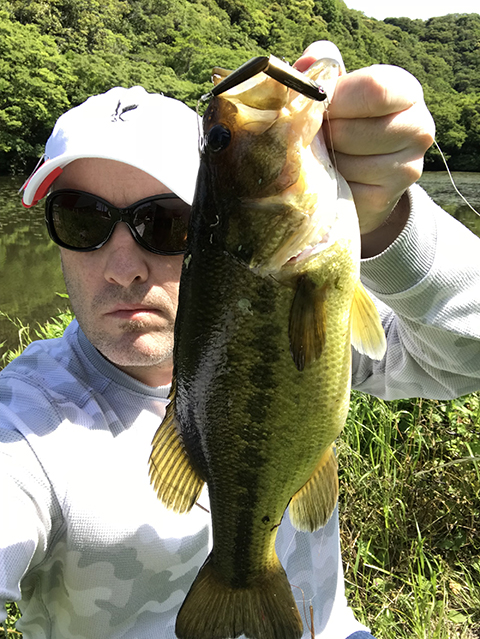 Hi everyone, Jason here. Been awhile since my last report but here we go. Since the introduction of Over Real 63 wake late last year, I have been grinding at the bit to break out my ultra finesse spinning rods and stick a few bass with this thoroughly thought out piece of fishing hardware.
Granted,spring time is the time of year all of us anglers want to be chucking Squarebills, Spinnerbaits, Chatterbaits, Jerkbaits,etc: at hungry behemoths on the stroll.But, there are those days were those freaks of nature are way too weary, and a more finesse approach is needed to trigger them to strike as I found out on my past couple of trips to my local reservoir.
The other day while I was on the water and had already threw "almost"everything in my tackle box without much success ,I noticed a larger fish was cruising the shallows under lay downs and picking off fallen insects from the surface! Thinking about it now, it was a gift sent from god. He was telling me that I was throwing the wrong stuff and I needed to be using a small topwater bait.
So, I went back to my tackle box , broke out Over Real 63 wake and Louder50 and went back to work.
On my second cast, I made a well placed cast along that lay down I had just seen that bass cruising on and Wham! A nice 3lb fish came up and smashed my presentation! From that point on, I just kept fishing the same type of situations lay downs, overhangs, docks, just anything that a insect could fall from and be a easy meal for those scavenging bass.
I ended up catching a dozen fish in the 2-3lb size range and my day was saved! Don't get me wrong, I still wanted to crush a 5+lber on my favorite Chatterbait ,but realized it wasn't in the cards on that day.
Small baits such as Over Real,Cobuzzin', Louder50 all earned respective spots in my box from that day forward!
Never underestimate small lures my fella fishing freaks! I'm sure they will save my /your tails over and over again!
Wish you all good hunting and hope this spring you will all land your PB! Cheers, Jay