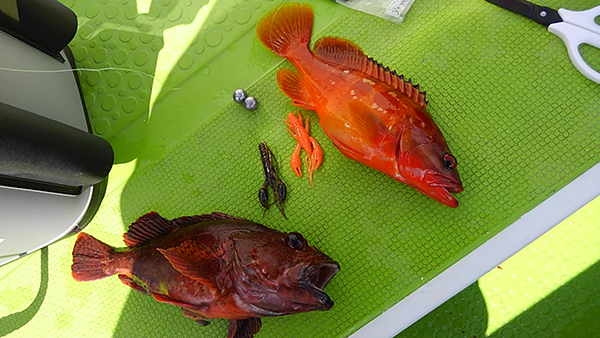 Greetings!
Been a while since my last report, so let me first apologize before starting.
Sorry yall:).
Now with the formality out of the way, let me dive in to the good stuff!
Boy have i found paradise! Let me tell you. Until recently, I thought I needed to drive north 5hours To find some decent rockfish hunting grounds. I couldn't have been more wrong! Just a short hours drive from tokyo , I found some of the most premeir grouper hunting grounds found in japan.
Not that there were any super monsters locked away there , but they are in there thick and ready to explode on a well placed texas rig!
I started the day using a 3゛DoLive craw on a #1/0 offset hook and weighted down with a 1oz bullet sinker and didn't need to change my lure selection the whole day. Selection stayed simple because every grouper being caught were regergitating small crabs and shrimp! I don't want to brag to much so i'm going to stop right here, but if your looking for some fun fishing close to tokyo, check out this guide service right here:
http://mera-matsueimaru.com/
They will put you on the fish!
Until next time! Tight lines,
Jay Ferris