ASURA O.S.P-F
JERKBAIT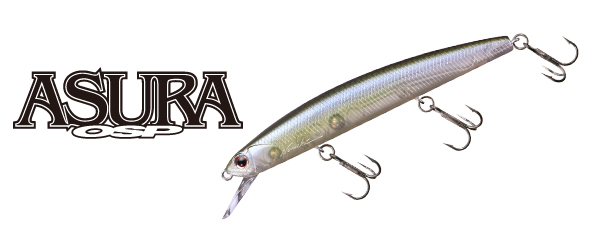 | | |
| --- | --- |
| Length | 92.5mm(3-7/10in.) |
| Weight | 7.2g(1/4oz.) |
| Type | Floating |
| Hook Size | #8 |
| Color | 10 |
| Released | June - 2002 |
Versatility by making the most of floating advantage
Originally, jerkbait had only floating. So, anglers at that time tuned it as suspend type by pasting metal in order to catch inactive fish of early spring when water temperature is low. Although the tuning was effective under limited situation, suspend type has become major jerkbait nowadays because a lot of magazines repeatedly featured that. But, jerkbait is not the lure only for spring season and suspend type is not almighty either. Floating type works rather longer period throughout the year and has ability for various techniques in any kind of situation.
Instinctively largemouth bass reacts to something that is falling and floating very aggressively. But, lure that can appeal to bass by floating is very rare. Floating minnow can do that, so it can be said that floating lure is not automatic because angler's technique influences fishing result. However, all the floating lures do not have same weight. The floatability of Asura-f is designed as high as possible, without causing distance loss. High floating minnow creates ripple easily when it floats on the surface and also easy to detect visibly. Moreover, it can dodge structure easily and it is effective when you want to trace narrow space under the surface of so-called weed bed. Floating lure of the same size as suspending lure has more appeal power because the response and action physically exceed it. So, it has overwhelmingly more advantage when bass is aggressive.
Asura-f unites the straight retrieve performance to the dart performance, and generates strong flashing with a flat body. In addition, it is a super-aggressive jerkbait that achieves a high catch-ability by treble hook, and has both even the structure evasion ability.
DETAIL

High float setting
The design of Asura-f has the most characteristic of floating lure. It decreased the weight to a very limit without distance loss.

Drop type weight transfer
A general weight transfer system had the problem because the weight ball sometimes moves to rear by the reaction of jerking. So, the action of lure becomes unnaturally and misses the bite. Therefore by adopting drop type weight transfer system the ball stays easily at the position even if the jerk is done and excellent action continues.
Item list
O.S.P
O.S.PWORKS SECONDARY
WORKS LOCO